With rapid development of global trade, logistics security risks have also grown, among which, the security problem of internal logistics can not be ignored. Up to now, Damon has created 2,500+ intelligent logistics system integration projects for the head customers in e-commerce, express, footwear, supermarket retail, medicine, intelligent manufacturing new energy and other industries. Behind the successful delivery of logistics system projects, high quality, high standard safety design is the key. Damon is committed to focusing on the four dimensions, strictly controlling the security details, with all its strength protecting the safety of personnel, and powering the safe operation of customer logistics centers.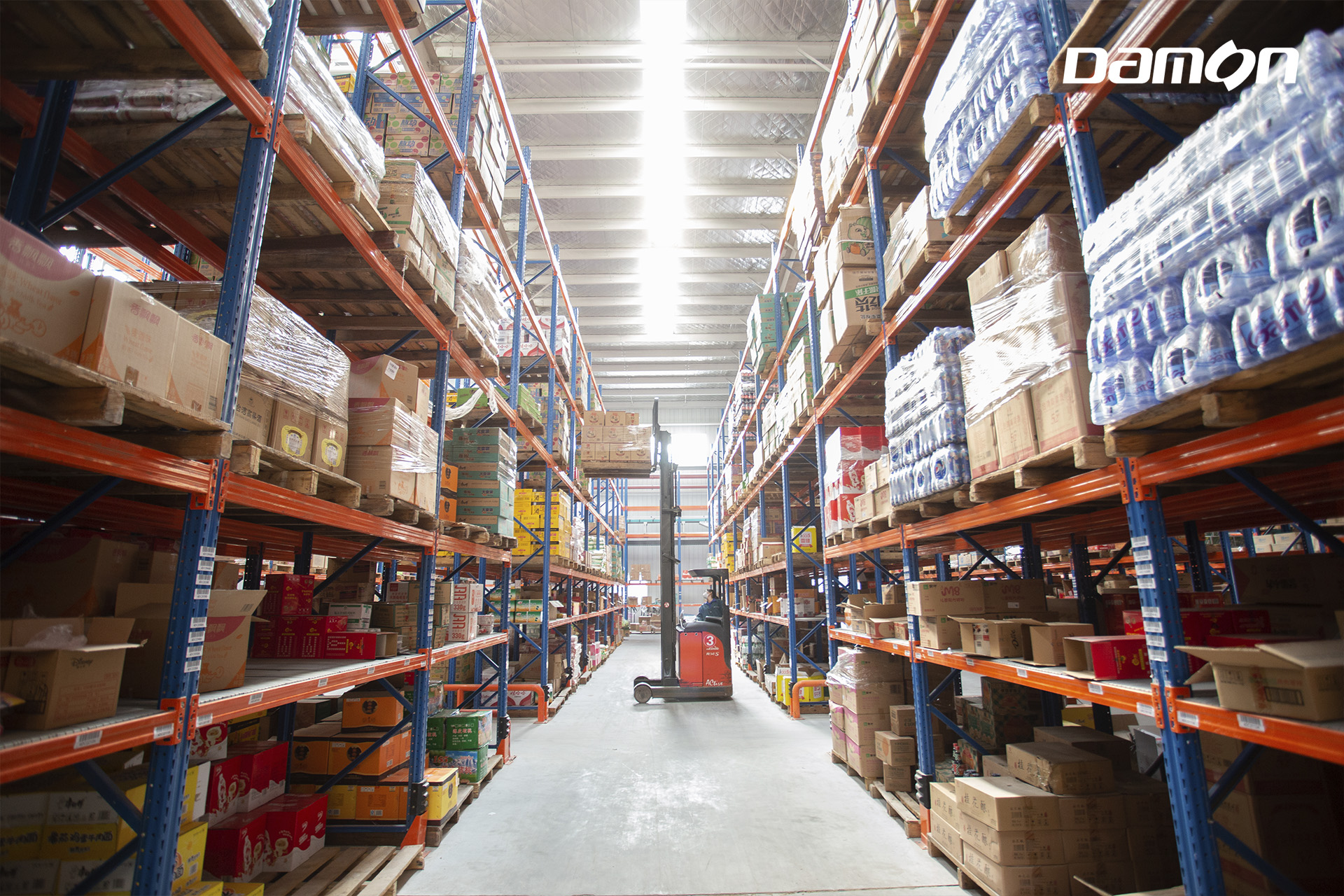 Safety of product equipment

The safety performance of Damon intelligent conveying sorting core products has been in line with a series of safety certification standards in the European Union CE, the United States UL South America and the Middle East countries, providing a strong professional commitment to product and equipment safety for Damon international projects implementation.

Equipment anti-pinch design
All poly V-belt roller conveyors are equipped with a new anti-pinch hand plastic protection kit; All manual contact belt conveyor adopts side plate and layering in line with safety specifications to avoid the operator's hand touching the area easily involved; The moving parts of system, such as cylinder, pop-up position should be clearly marked with yellow warning signs to ensure personnel to operate safely.
Ground collision avoidance design
The supports and platform columns of the landing equipment are equipped with angle protection and collision prevention mechanisms, and the foundation is connected with high-strength chemical bolts for secondary fixation with the ground, ensuring the safe and smooth passage of AGVs, ground cows, and personnel.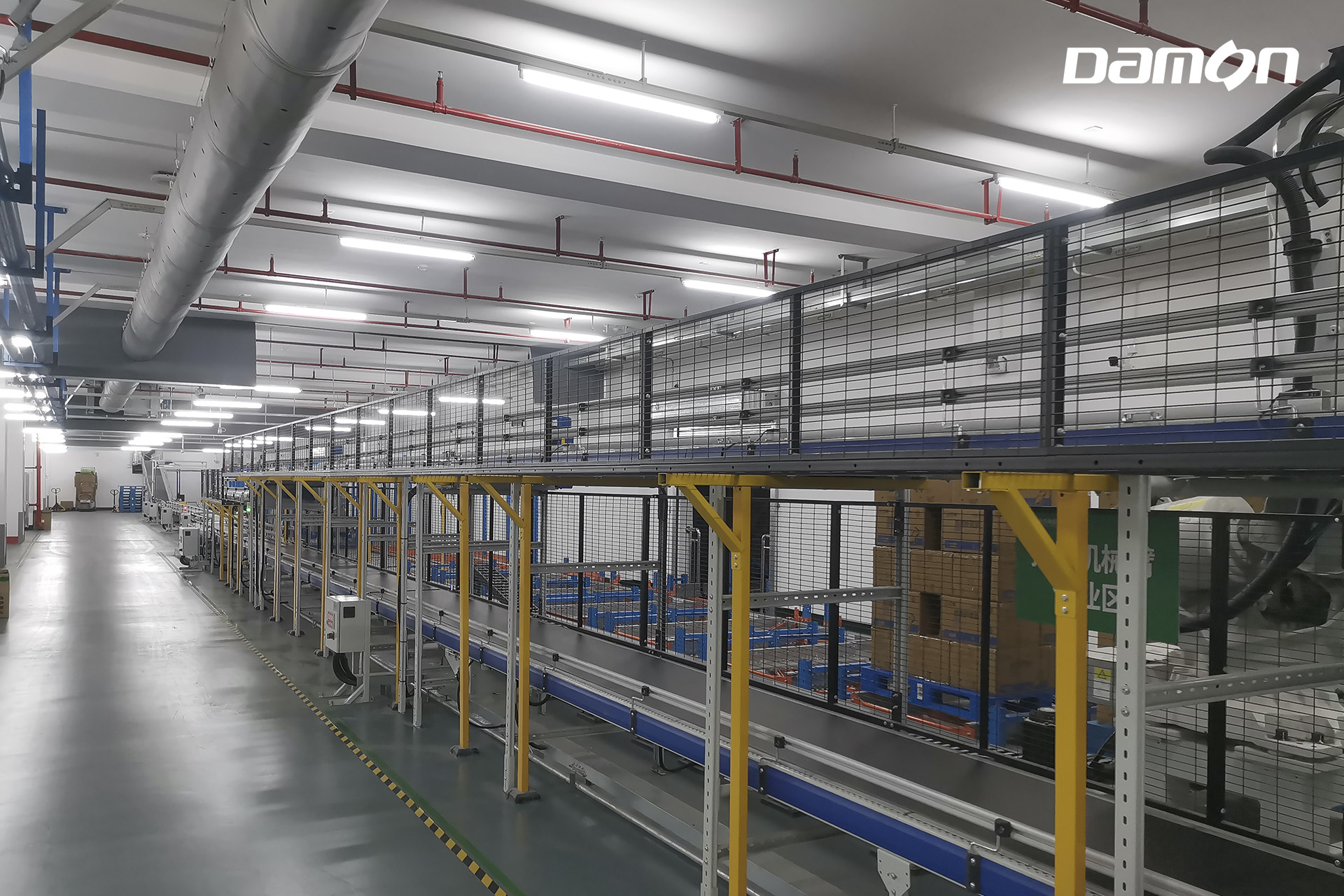 High-altitude protection design
For high-altitude conveying equipment above manways and logistics channels, a semi transparent bottom cover is installed to observe the bottom situation and ensure that goods transport safely and stably; At the same time, a safety protective mesh is installed on the side to prevent goods from overturning and falling, which may cause injury to personnel below.
Low noise noise and environmental protection design
Damon i-G5 modular intelligent conveying platform uses harmless materials and low noise driven structure to create a quiet and good working environment for operators and guarantee the health and safety of employees.
Security of system electronic control
Damon has always insisted on providing customers with 360° all-round safety protection, and has always adopted a high standard system electric control linkage emergency plan to deal with the safety hazards caused by manual operation errors or equipment running deviations, so as to guarantee customers' logistics systems operate normally.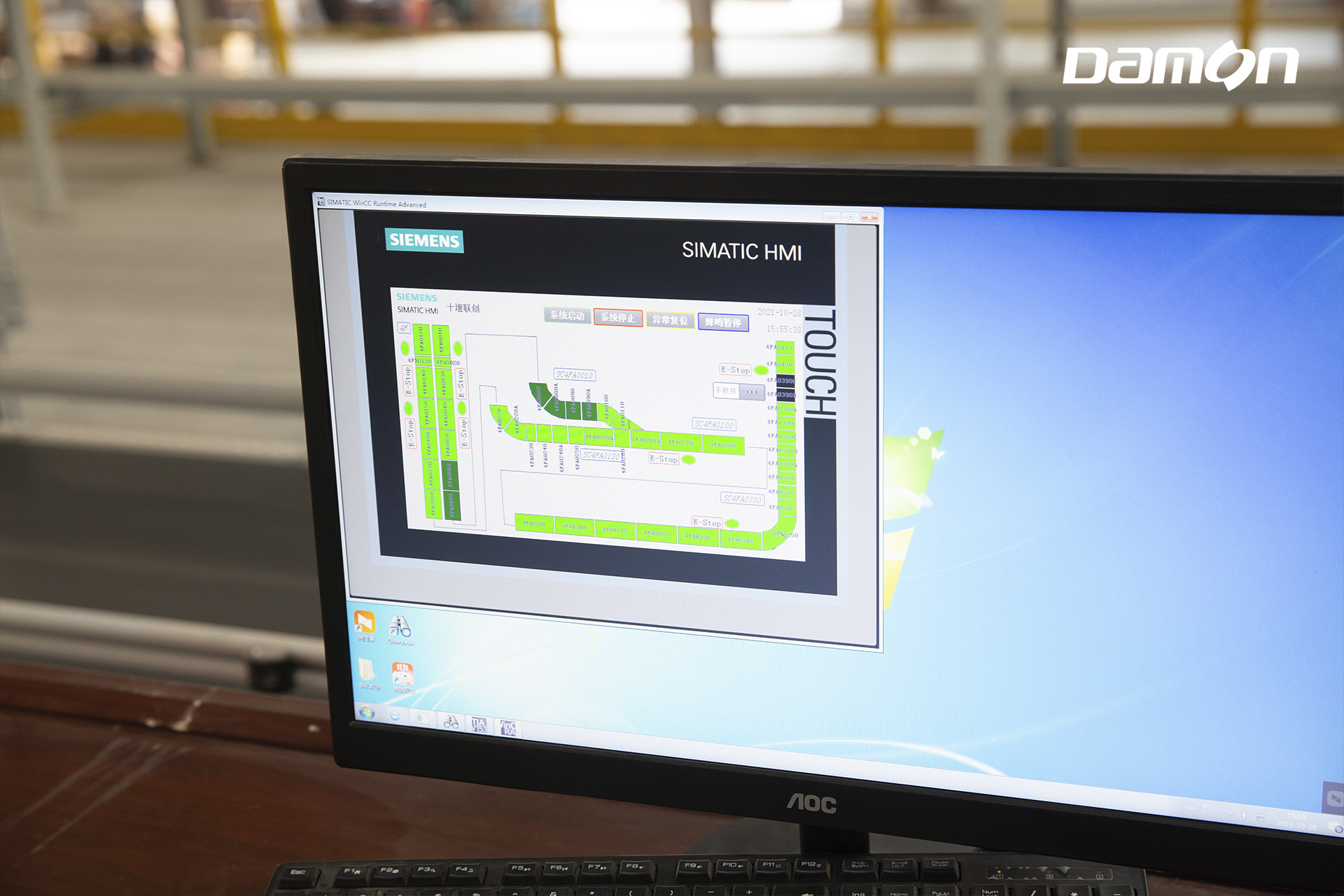 Circuit safety design
Wiring inside the electric control cabinet is wrapped with insulating material to prevent the operator from electric shock; The terminals connected to other electric control cabinets need to be equipped with safety protective covers to ensure that electric control cabinet is safe when the power is off. Drive card part is installed with a safety protective cover to avoid interference and damage to the internal wiring.
Security interlock design
Strong electric 3P switch of electric control cabinet needs to be equipped with a special safety lock, which is taken care of by special personnel to ensure absolute safety during power-off maintenance.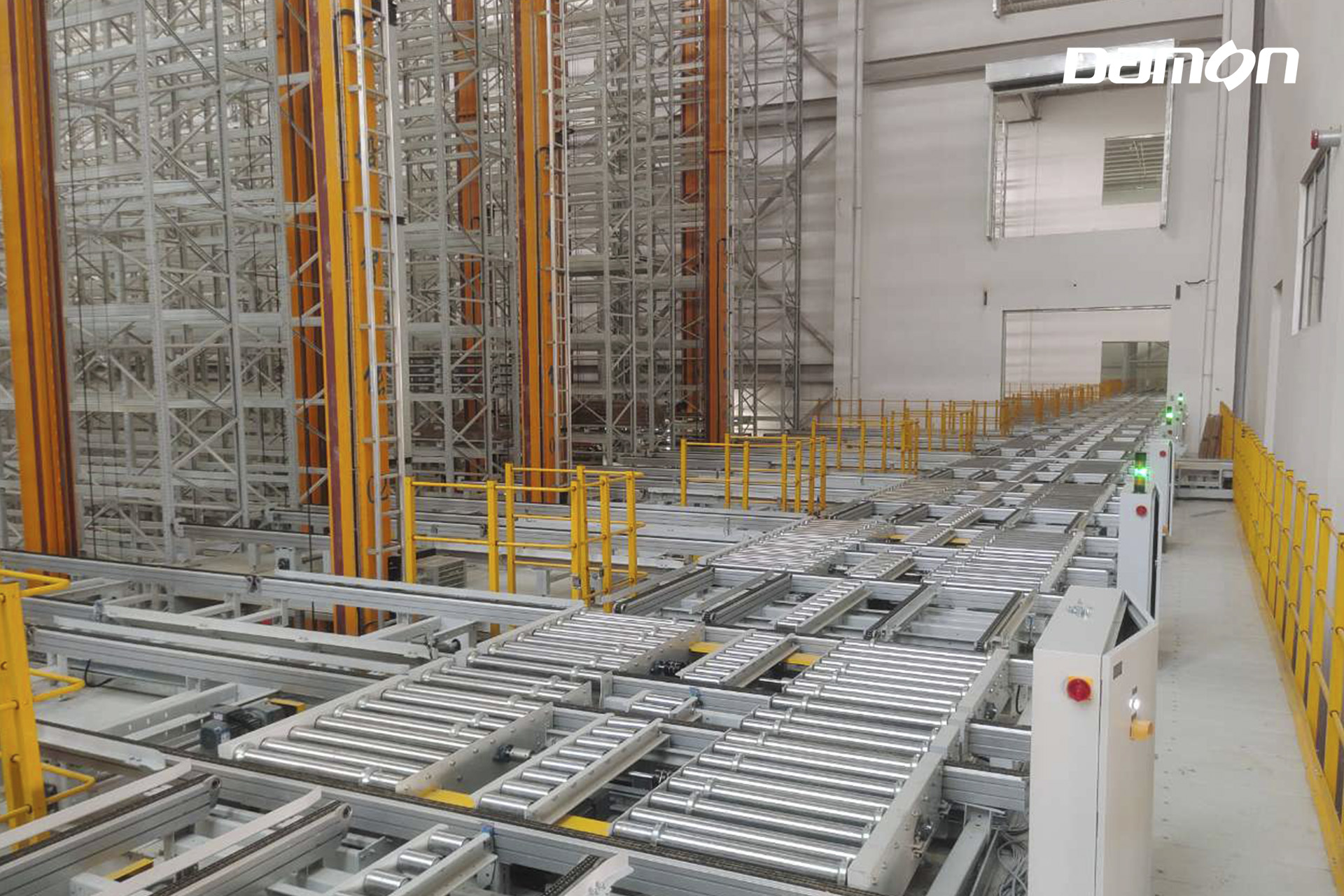 Emergency solution design
Clear the PLC series logic in each region, design and plan the system partition linkage alternatives, when some regions fail, to ensure that goods in other regions can still be smoothly transported; When the problem area is eliminated, the electronic control program will keep the original memory waiting, and quickly restore the overall system operation.
Emergency stop control design
Emergency stop button/rope is located in every corner of site, ensuring that each operation area is equipped with emergency stop control and easy to touch, which can cut off the motion power in time and effectively avoid the occurrence of accidents.
Safety of fire escape
Nowadays, modern logistics centers are filled with countless items and complex facilities, in order to ensure that operators can quickly escape in an emergency, Damon has designed a series of fire safety counterplans in the project planning stage, leaving a way out for everyone to care about emergency escape.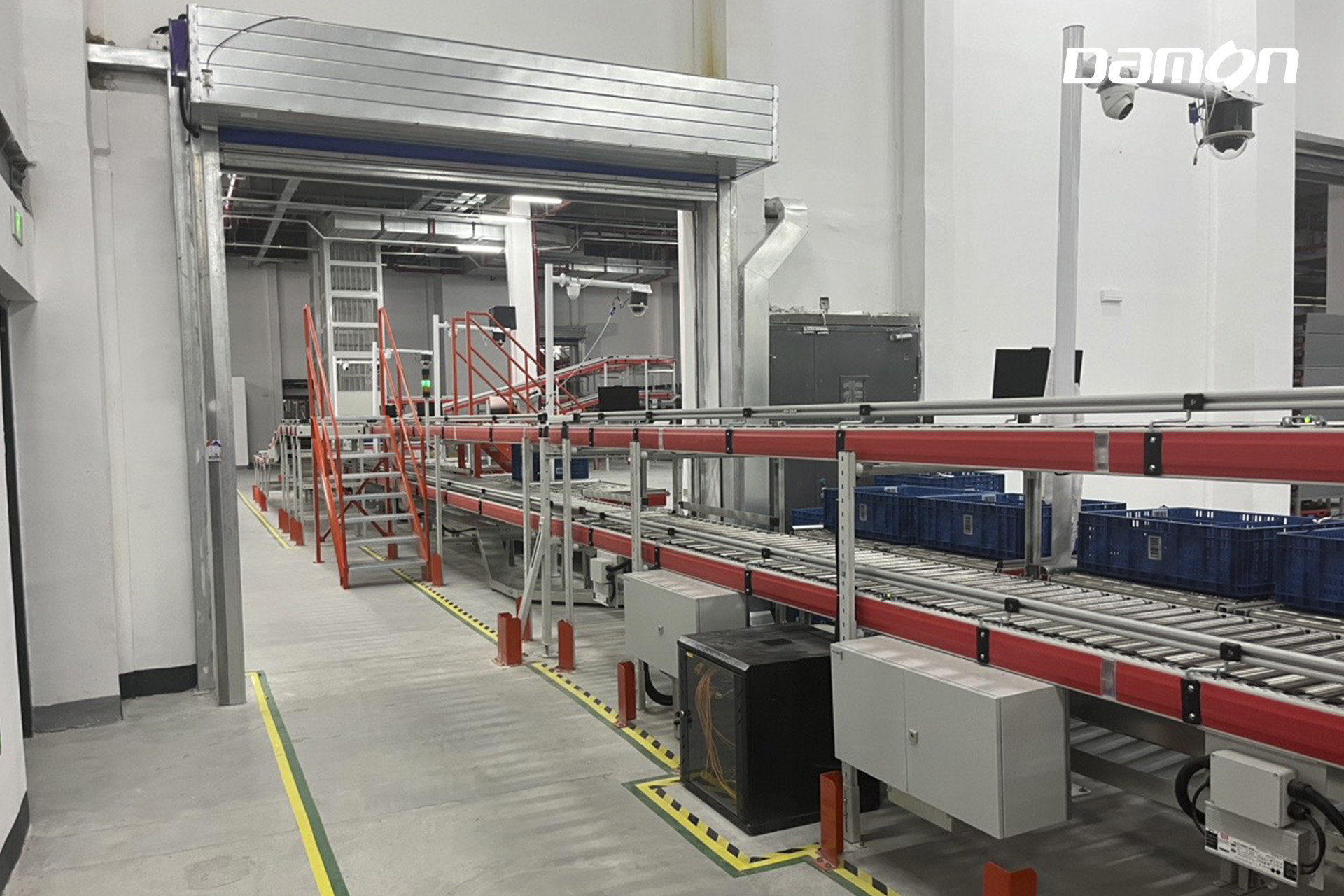 Emergency escape design
Deploy emergency escape passages every certain distance in the manual operation area, fully guarantee the clear width and clear height. Add escape stair to ensure sufficient width, the angle of stairs is not greater than 45°, plan and optimize the shortest escape path to facilitate quick escape.
Safety passageway design
The main fire passageway must guarantee the clear width and clear height. In order to avoid direct impact and blocking of fire passage, part of the conveying equipment is overhead heightened by the lifting way of gantry frame. There is enough maintenance space between the conveying equipment and the warehouse column/steel beam to ensure that all personnel can safely evacuate the dangerous area in the first time in the event of an emergency.
Fire partition design
In order to achieve fire compartment, a power section partition design is carried out for some equipment at the wall-through/double curtain double rail rolling shutter door. A gate conveyor with temporary power supply (UPS) can be installed, which can push buttons to flip and power off to flip. When the fire system sends an alarm signal, the gate conveyor automatically opens without affecting falling of fire rolling shutter door, achieving fire linkage control and preventing the fire from spreading.
Security of operation and maintenance
Damon attaches great importance to employee health, not only constantly paying attention to and protecting employee safety, but also following the concept of ergonomics. Flexible operation solutions add comfort to the working environment of employees, and provide convenience for the maintenance and repair of customers' operation and after-sales service personnel.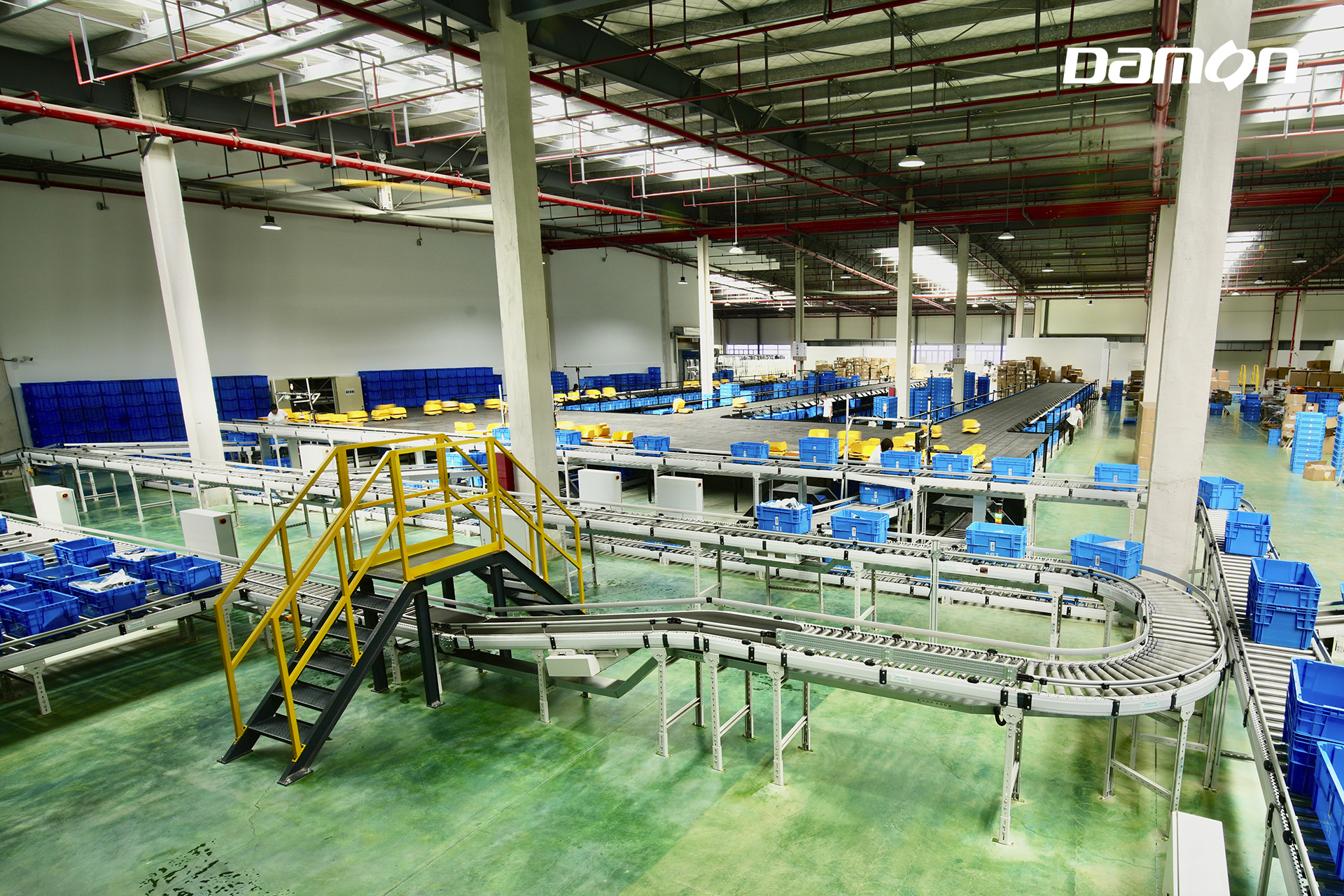 Engineering flexibility design
The width and incline angle of Damon cargo-person worktable are designed according to the comfortable length of operator's arm extension when standing, and it should guarantee the clear height of manual operation position, which makes manual pushing/moving operations smoother, without the need for bending and turning, nor lifting weights. It conforms to ergonomic characteristics and greatly improves work comfort.
Operation and maintenance ladder design
To reserve sufficient maintenance space and facilitate daily operation and maintenance, maintenance steel platforms and corresponding ladders are equipped in the cross belt sorter system and parcel feeding area. If the site is limited, mobile ladders can be used for maintenance.
Convenient maintenance design
Guarantee the clear height and width of maintenance passage, and ensure that the maintenance passage is unobstructed; There should be sufficient clear height between the conveyors to ensure that maintenance personnel can pass through. The worn parts of the equipment should be designed with transparent observation windows, so that after-sales personnel can squat down to maintain in time.
With Damon's well-rounded system project safety design, customers' logistics centers can run more smoothly and efficiently! In the future, Damon will continue to adhere to safety concept of " people-oriented, give attention to details", resolutely implement the security closed-loop management of " pre-prevention, in-process control, and post response", from the early program planning to the later operation and maintenance stage, weave a good customer intelligent logistics security network to achieve safe delivery of project the whole process, and take responsibility of the work health and safety of customers, partners and Damon personnel, enabling customer logistics center security upgrades.