At present, diversified consumption, product customization and personalized service have gradually become an important trend of market development, which puts forward higher requirements for modern logistics centers. As a key part of the supply chain, the operational efficiency, service quality and operating cost of intelligent logistics system have always been the key indicators of enterprises. Efficient and reasonable logistics system planning can help enterprises speed up the flow of goods, achieve effective control and management of resources, so as to improve the efficiency of logistics operations, promote customer satisfaction, and enhance the enterprises' competitiveness.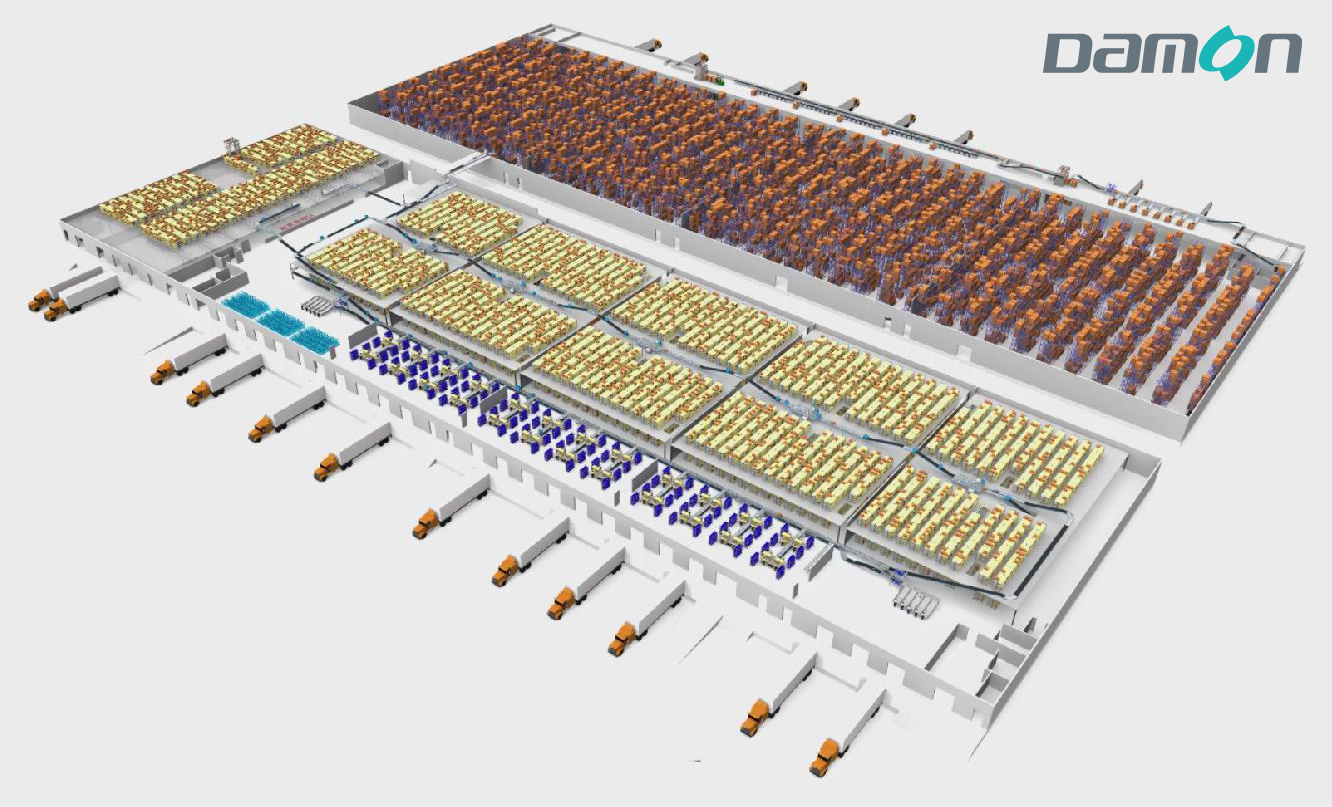 As a global customer-trusted intelligent logistics core equipment and system solution provider, Damon's huge sales and solution planning teams are all over the world, and gather many industry experts in the field of intelligent logistics, possess rich experience in industry projects, can deeply perceive market needs and business scenarios, and according to the actual logistics challenges faced by customers, tailor-make appropriate intelligent logistics system solutions.
Professional solution planning skills
In the early stage of solution planning, Damon attaches great importance to communication and collaboration with customers. Through on-site research on customer projects, deeply explores customers' customized logistics needs, and combines their business models and material characteristics to carry out reasonable functional zoning and dynamic line design, determine the general framework of system solution planning. Then, Damon conducts a comprehensive analysis based on the number of storage and flow data in the warehouse area, designs a reasonable logistics operation process, and configures corresponding equipment to connect and cooperate with each other, give full play to the customer overall logistics operation efficiency. At the same time, when planning the solution, Damon will take the overall consideration to carry out flexible design, look forward to the long-term development of the customer warehouse distribution center in the future, and add more flexible intelligent logistics equipment to meet the capacity needs of business expansion or adjustment, which has a certain degree of industry progressiveness.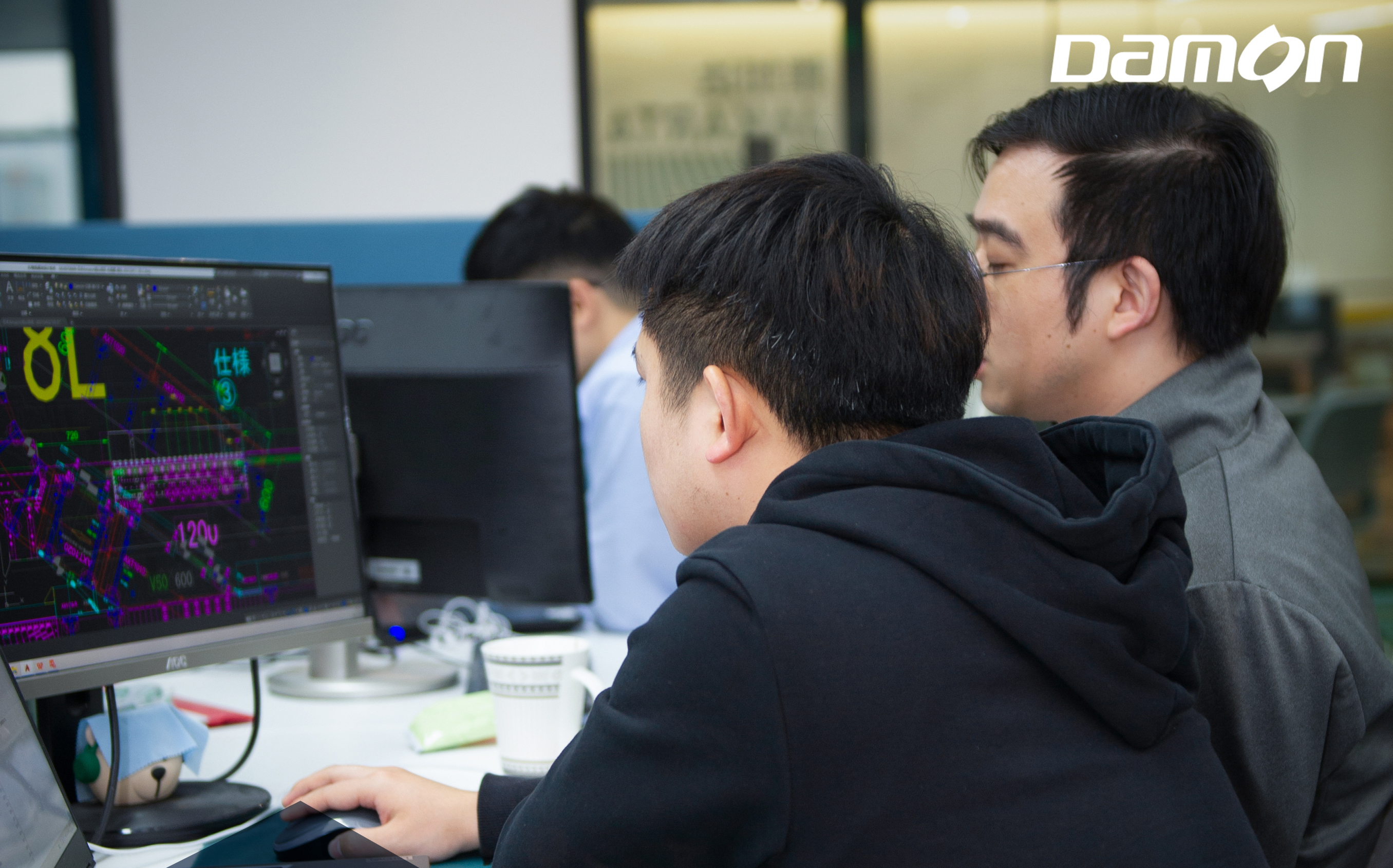 Strong system integration capability
Damon has a complete product line for transportation, sorting, and dense storage within the intelligent warehouse distribution center, covering various segmented scenarios of warehousing, storage, picking, transportation and sorting, and ex-warehousing. All series products high standardization and modularization combination application can improve the connectivity of various logistics links. In addition, with a perfect upstream and downstream supply chain system and strong logistics ecosystem partners, it can sustainably guarantee system project solution plan implemented successfully.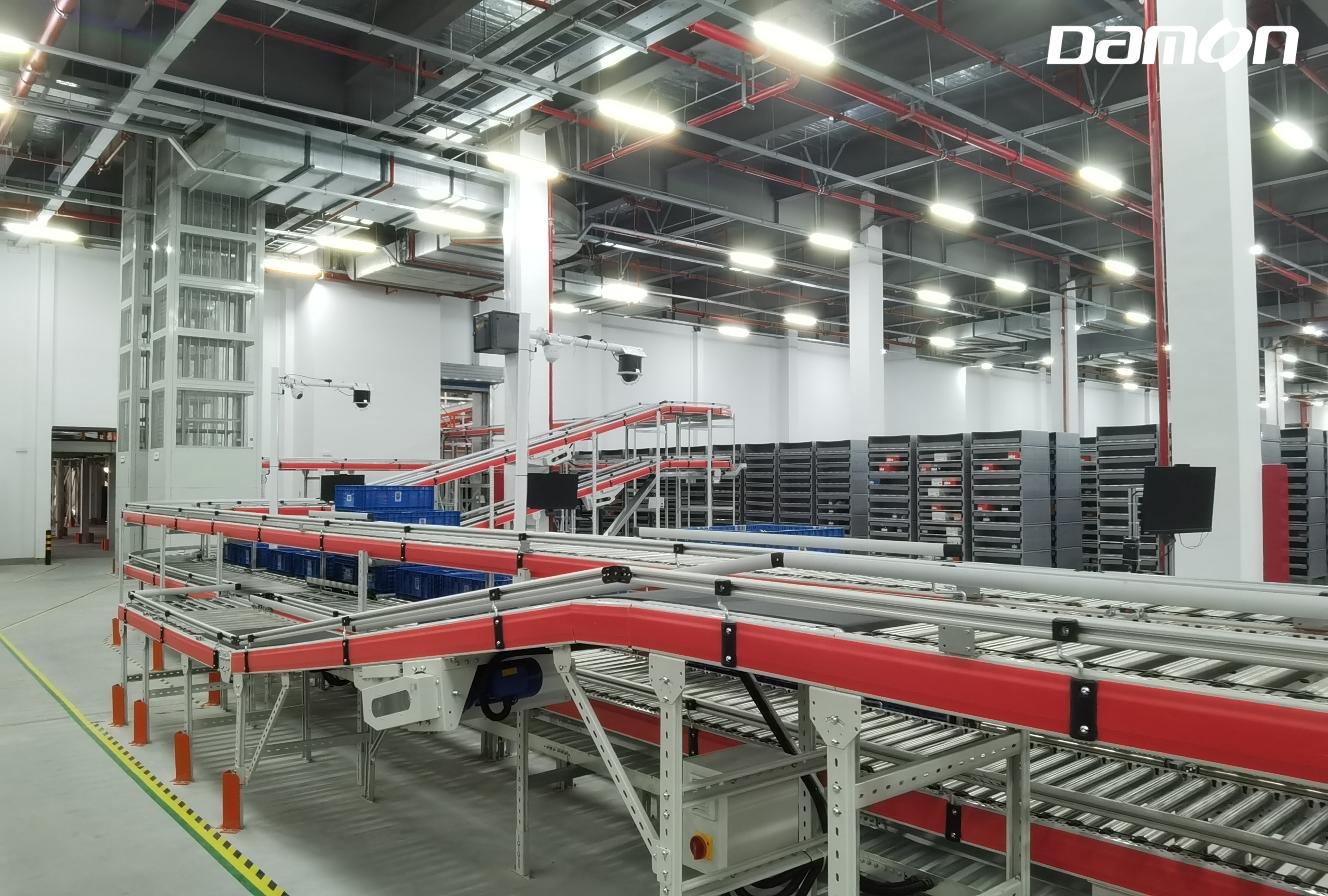 In the equipment selection process, Damon is able to provide customers with a variety of intelligent logistics equipment. In response to the desired results, Damon fully considers the layout logic, mutual coordination, and matching degree of equipment, selects suitable equipment combinations for customers, develops scenario based logistics automation system solutions, improves equipment utilization and value, and pays attention to improving overall system performance, guarantee the efficient operation of customer warehouse distribution centers operate efficiently, and enhance customer logistics warehouse distribution capabilities.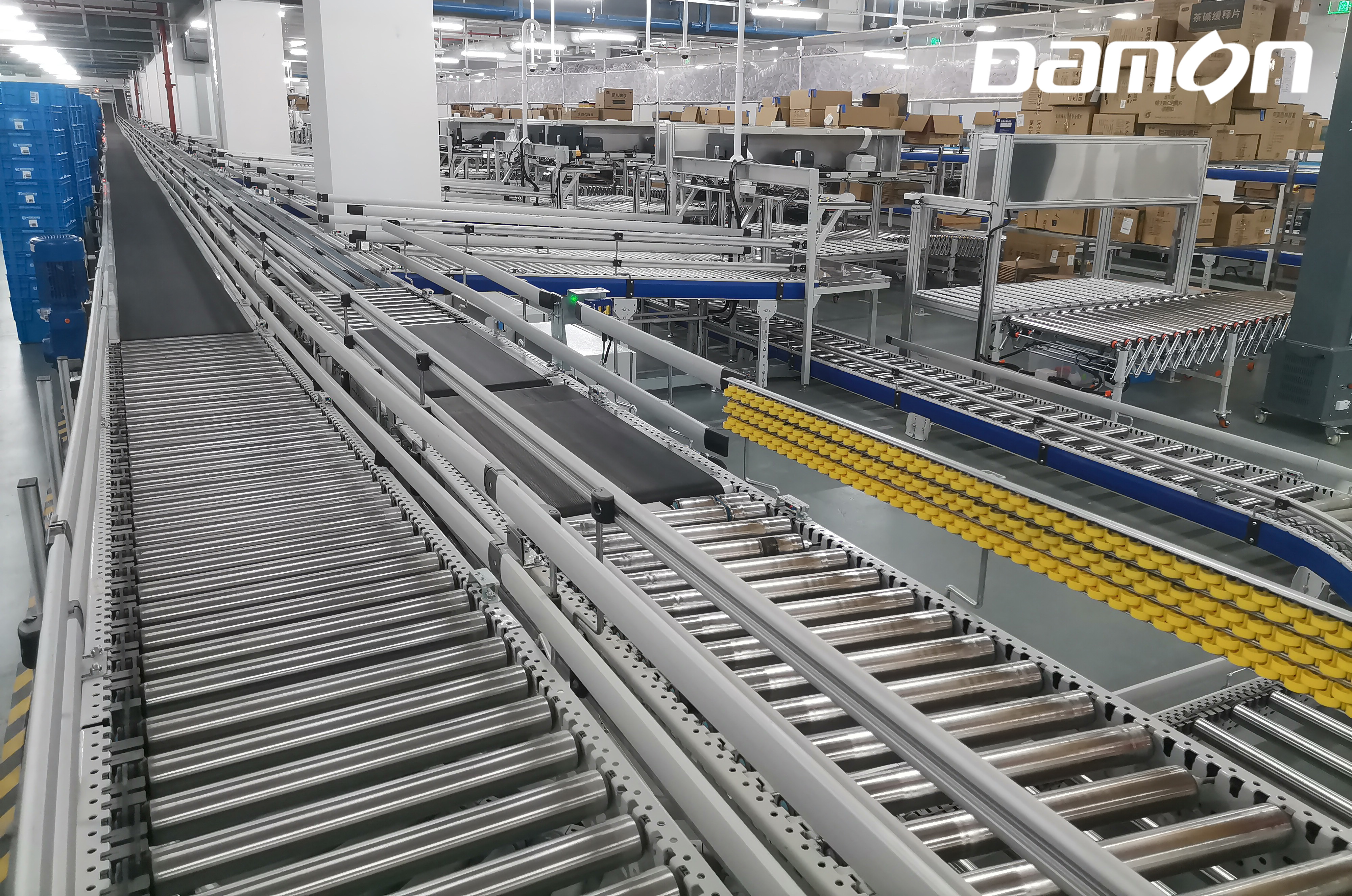 During solution planning phase, Damon strives to select low-power products and equipment with low noise structure design for customers, equipped with intelligent drive controllers and a unique energy-saving ECO mode. While saving electricity for customers, it reduces energy consumption by 20% to 25%, resulting in an overall energy efficiency increase of 15% for the project. It assists customers to achieve energy-saving and consumption reducing logistics transportation, and creates huge value of low-carbon and environmental protection for customers.

Flexible detail optimization ability
1)Optimal design of line body distance
During the system planning and deployment, Damon avoids returning, sidewinding and steering as much as possible to reduce the redundant movement of equipment and personnel. By reducing the number and length of line body, Damon makes the goods splitting and merging more smooth, significantly improve the efficiency of splitting and merging operation, and meet the customer's expected requirements for system flow and efficiency.
2)Optimal design of site space
For the multi-row parallel conveying line body, in order to reduce the number of supports and improve the aesthetics of system overall layout, Damon designed some of the conveying line body into the form of gantry overhead ceiling, reducing the impact on the passage of personnel and other equipment, effectively improving the space utilization rate, and leave enough space for maintenance personnel to maintain the system equipment later.
3)Optimal design of human-computer interaction
Customers attach great importance to the docking part between end of logistics automation system equipment and operators, so in the planning stage, Damon will pay more attention to the risks and problems existing in the details of the project plan, and timely optimize the worktable operation space, tilt angle of equipment during manual loading and unloading, the button of digital assorting system and slide gap, so that it is in line with ergonomic characteristics, to improve the comfort and convenience of operation and strengthen manual use experience.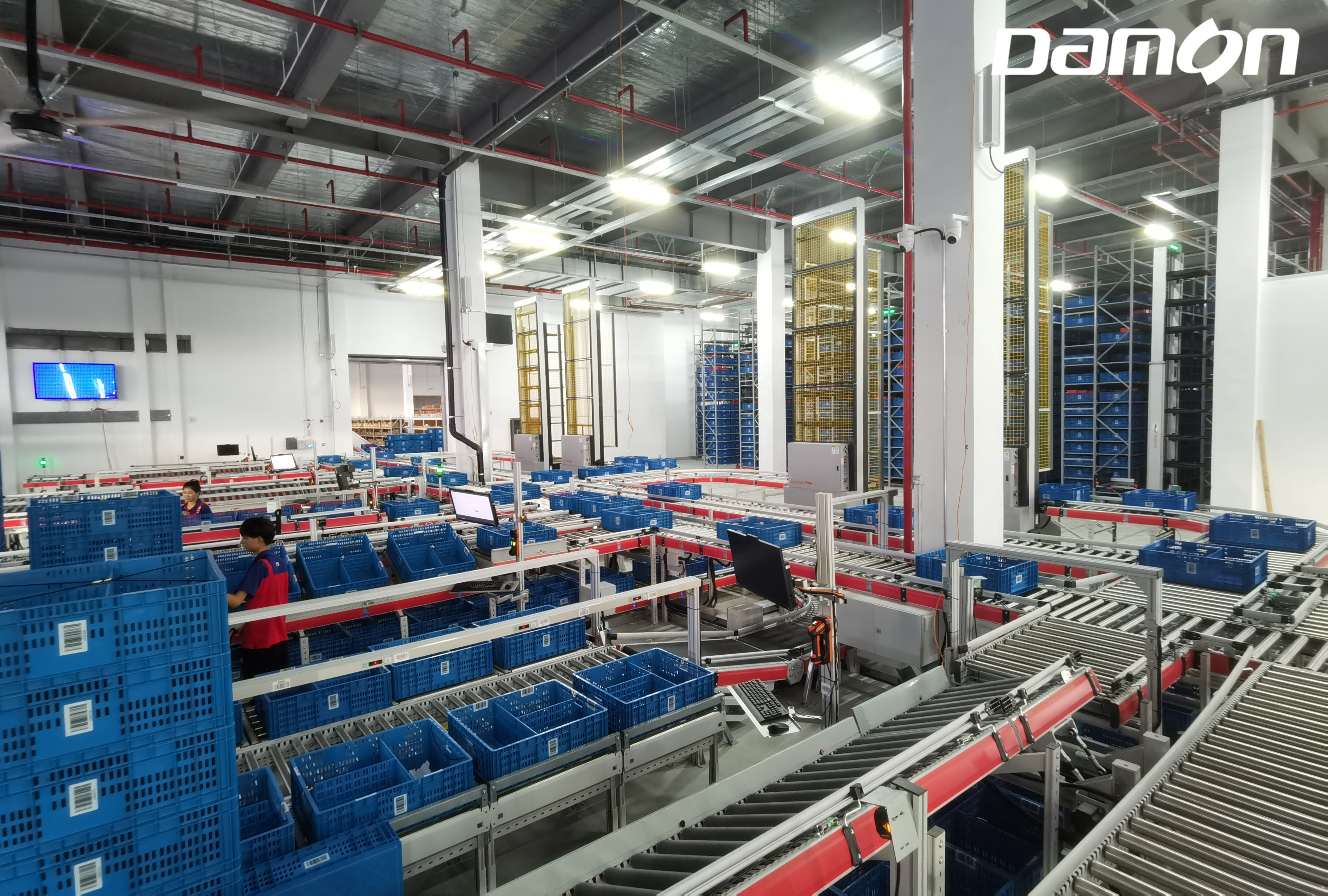 At present, Damon's high-quality intelligent logistics system has been widely applied in various industries, including e-commerce, express delivery, shoes and clothing, supermarket retail, medicine, intelligent manufacturing, new energy, etc. It has empowered benchmark enterprises in industries such as Dewu, JD Logistics, JOEONE, Liansheng Group, RENHEN Pharmacy, Dahua Fuyang, and Poweramp. In the future, Damon will always be customer-oriented and provide personalized intelligent logistics solutions that meet business scenarios to help customers achieve gains.