As the basic necessities of life, the overall market size of footwear industry will reach 3.5 trillion by the end of 2023. After 30+ years of rapid and steady development, China's footwear industry has formed a huge industrial cluster in Fujian, Guangdong, Jiangsu, Zhejiang, Shanghai and other regions, emerged a large number of excellent head brands, and its investment and construction of logistics centers have been all over the country.
In 2013, Damon took the transport sorting project of Peace Bird Logistics Center as an opportunity to engage in the shoes and clothing industry, which has been more than ten years up to now and witnessed the vigorous development of China's shoes and clothing industry. In this "Damon Has Words " program, we specially invited Damon Technology footwear industry intelligent logistics solutions consultant -- Manager Shi Yacheng, to share with you the growth story of Damon in the field of footwear industry intelligent logistics, and combined with the development and demand changes of footwear industry, express freely of Damon intelligent logistics system solutions and core equipment will do which useful exploration on the shoes and clothing logistics adaptability ?
1)What is the reason for Damon to list "shoes and clothing" as a strategic core industry?
Ten years ago, the logistics construction of the shoe and clothing industry was generally backward, and many companies didn't invest far enough in logistics, but Damon firmly believes that after many years, the shoe and clothing logistics center will be transformed from labor-intensive to logistics automation.

With the continuous optimization and upgrading of the shoe and clothing business, the expansion of production capacity makes the construction of modern logistics center imminent, which gives rise to the strong demand for logistics automation, and the personalized demand of end users has surged year by year, and the picking proportion of logistics center has become increasingly enlarged. Relying on years of logistics automation equipment experience and understanding, Damon's high-quality conveying and sorting products can fully solve the efficiency problem of shoe and clothing logistics in picking process.
2)How does Damon provide personalized logistics solutions for shoe and clothing customers?
Act according to actual circumstances, adapt to local condition. Damon mainly combines the spatial structure, business type, processing volume and logistics characteristics of various logistics centers to customize personalized intelligent logistics system solutions to help customers improve the flexibility of supply chain logistics and industrial competitiveness. For customers who have not yet developed a mature solution in the market, Damon is willing to set up a joint laboratory with ecological partners and university experts to conduct innovative discussions and develop solutions that can be quickly implemented for customers.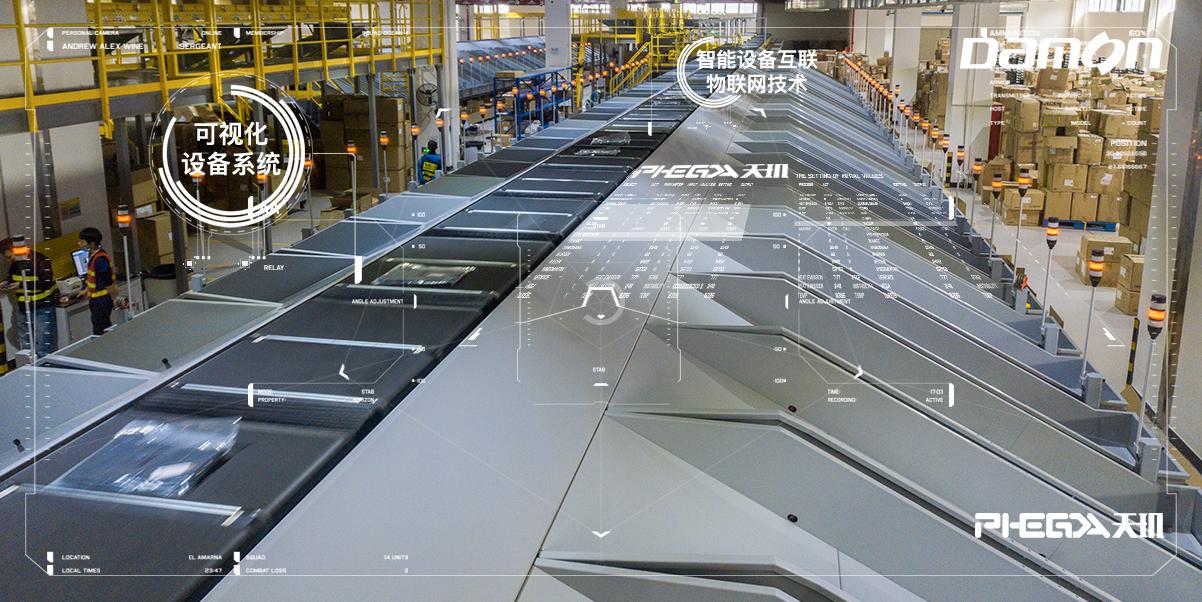 With the increase in the number of logistics equipment of shoe and clothing head enterprises, it is not feasible to use the original idea of equipment management to let manual check one by one. In this case, Damon independently developed a intelligent devices predicting health management software platform—— PHEGDA, which can seamlessly connect i-G5 intelligent conveying platform and cross-belt sorter system, equips intelligent logistics equipment with digital brain, transforms post-maintenance and preventive maintenance into maintenance based on equipment status, and realizes one-stop predictive maintenance, real-time concern for equipment health, critical node failure alarm, autonomous reminder of remote operation and maintenance and other functions, pilot maintenance, enabling the smooth operation of footwear supply chain logistics.
3)For what differentiated advantages shoes and clothing customers will choose Damon as a logistics partner?
- Strong solution planning capabilities
Whether the planning and design of logistics solutions can truly meet demand and solve existing problems has always been a key point that shoe and clothing enterprises attach great importance to and pay attention to. Although some customers do not have a complete concept of the detailed process of solution, when they hear a proposal report that is very in line with their business characteristics and cost requirements, and has clever ideas, they will be amazed and particularly touched. Damon has always been deeply involved in customer frontlines, visiting project sites for on-site inspections, comprehensively understanding their business scenarios and actual pain points, and conducting overall planning and system deployment based on customers' personalized needs, providing customers with logistics efficiency improvement solutions that directly hit pain points and hit the nail on the head.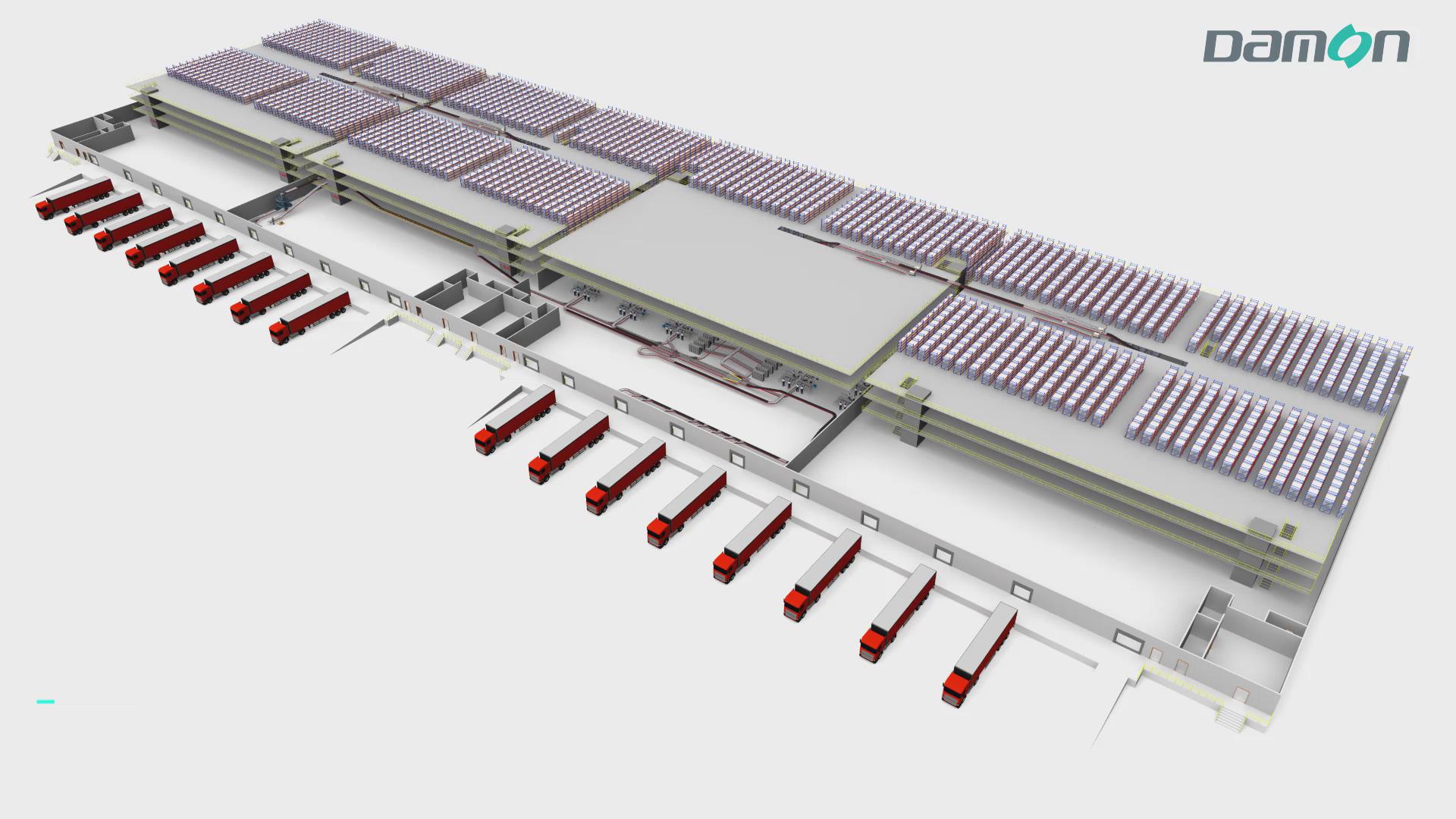 - Full link hardware and software product system
Damon has internationally advanced transportation and sorting key technologies. Relying on continuously upgraded equipment manufacturing advantages, advanced and stable production processes, and professional high-quality technical services, it has independently developed i-G5 modular intelligent carton conveyor platform, digital intelligent cross belt sorter, vertical conveyor, high-speed balance wheel sorter, etc based on the Internet of Things and other intelligent logistics core products. In addition, Damon makes full use of intelligent logistics partners ecosystem resources to integrate logistics equipment dedicated to the shoes and clothing industry, such as intelligent handling AGV, suspension chain system, etc., and cooperate with Phegda system, WMS, WCS software platforms independently developed by Damon to deliver a complete set of efficient and stable logistics automation system solutions that integrate the functions of receive and warehousing, intensive access, picking, transportation and handing, sorting and out-warehousing, etc.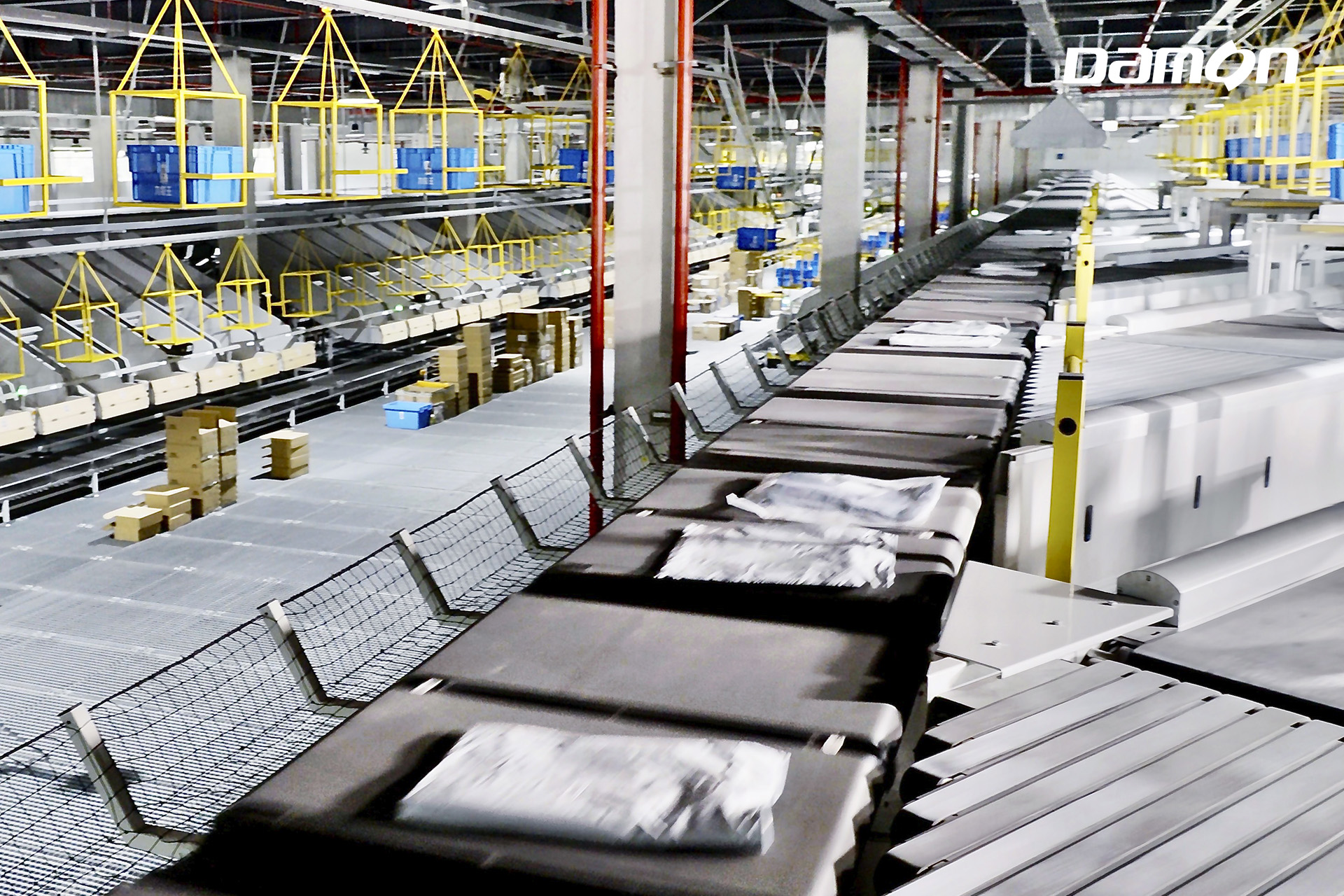 - High efficient project compliance delivery capability
Damon has a scientific and perfect project implementation and management system, based on PMP optimized standard processes, and utilized a series of digital project management tools to finely manage the entire project process, ensuring project delivery on time. At the same time, Damon is committed to building a high-quality and capable project management team, the project manager and experienced on-site manager both hold internationally certified PMP certificates and safety officer certificates, are familiar with the implementation process and technical key points of system integration projects, and can identify the risk points that exist in the project delivery process for reasonable control, achieving full project risk lifecycle management. Meanwhile, they rely on their rich experience in intelligent logistics system integration project management to ensure the progress of installation and debugging, and provide customers with an efficient project delivery experience.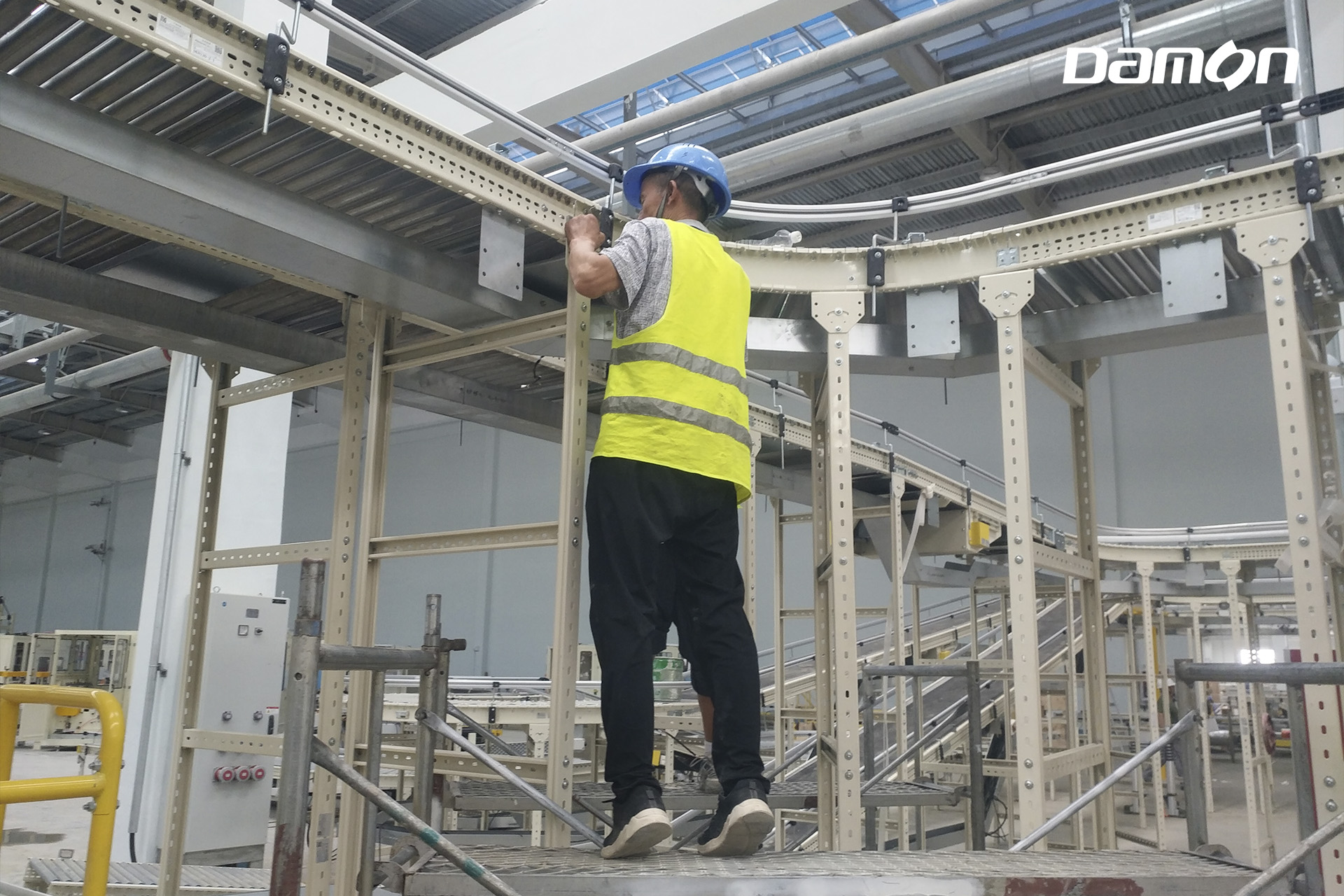 - High quality service experience throughout the process
Damon is customer-oriented and utilizes a nationwide service network to tailor a diverse service portfolio solutions for shoe and clothing customers. Currently, Damon has established after-sales service offices in Beijing, Guangzhou, Wuhan, Huzhou, and Shanghai, and arranges corresponding after-sales service personnel to respond as soon as possible according to the customer's on-site location, providing strong one-stop service guarantee for customers. At present, Damon has successfully delivered 25+ shoes and clothing logistics center projects, helping Joneone, Tanboer, Li Ning, Melaleuca, Belle, Aimer, Anta, Carbene, Jordan, Samsonite, Beyond, Tonlion, Hodo, La Chapelle, Metersbonwe, Day Broadcast, Shenzhou Knitting, Peace Bird and other well-known head customers to build smart logistics benchmark projects, which has a strong demonstration effect in the field of shoes and clothing.
4)How did you promote Damon to shoe and clothing customers during the pre-sales stage? Please share success stories and sales experiences.
In the pre-sales stage, Damon uses different promotion strategies to face new and old customers by identifying customer types. For example, Damon has an old customer in shoe and clothing e-commerce logistics. In the first Tianjin Warehouse Project bidding, Damon spent a lot of time independently planning the entire solution, which won the customer's approval at that time. The innovative design of wave style uphill and downhill not only saves costs but also saves space in the warehouse, achieving the entire warehouse's transportation automation. However, due to certain factors, Damon was unable to win the bid due to some reason, and the project also failed to achieve customer satisfaction. So in the subsequent Southern China Warehouse Project, the client visited the Damon Huzhou manufacturing base and smoothly operated project site, and hearing the praise from other client representatives for Damon, after comprehensive comparison, they still chose to continue cooperate with Damon.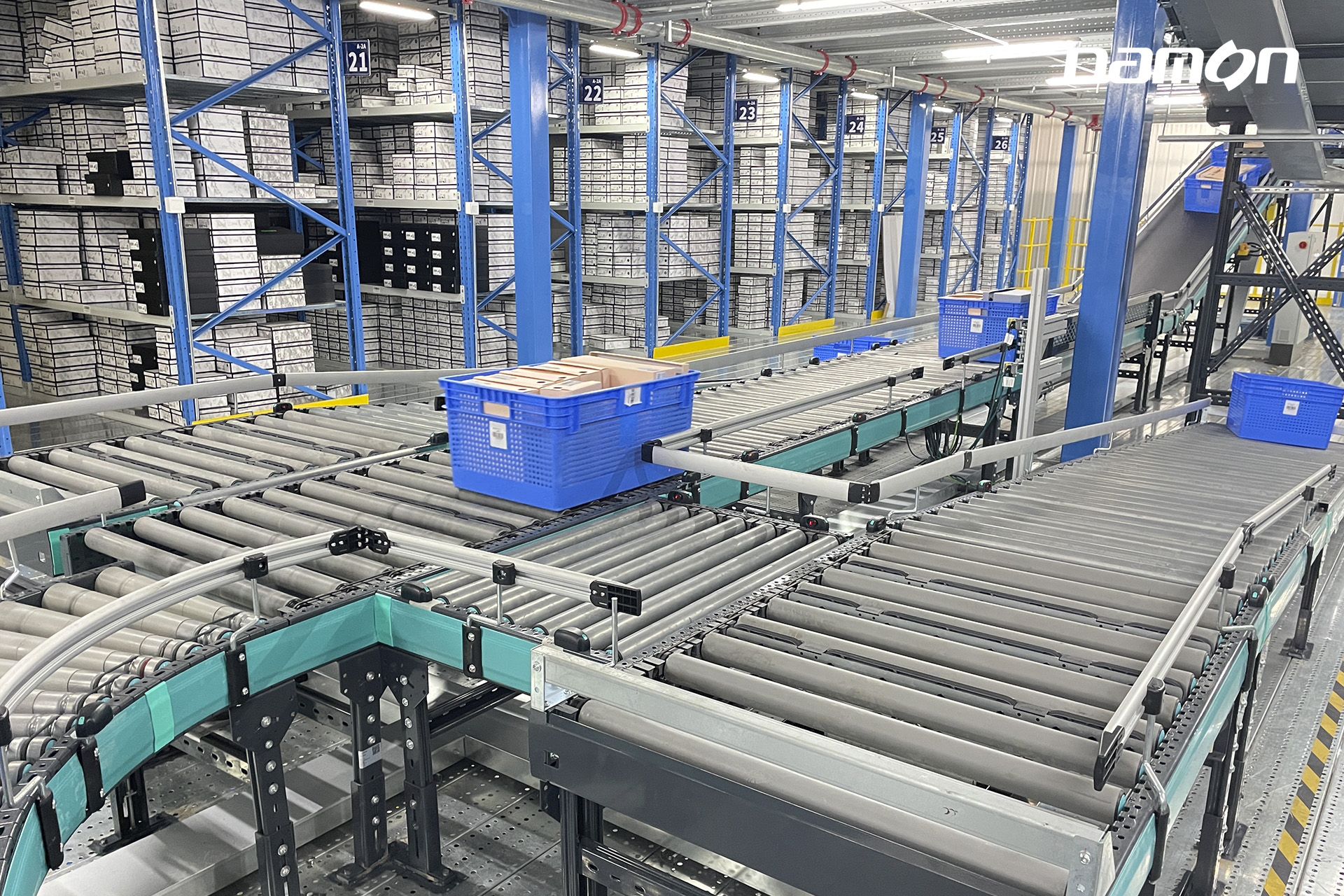 As the saying goes," Seeing is believing" , it is important for customers to feel Damon high-quality project services, and have more real and profound understanding of Damon business strength and industrial scale, a professional image is left in the hearts of customers, and entrust the project to Damon." Mr. Shi said.