All the time, every year 618 has allowed countless enterprises to withstand the logistics test of the great promotion peak. However, after the carnival, the return boom also followed. Among them, as an important category in the mid-year promotion, the return rate of shoes and clothing is higher than that of other industries, resulting in a further surge in reverse logistics processing pressure in the warehouse, which directly affects the efficiency of reclassifying goods and inventory turnover, and brings huge challenges to the operation and management of shoe and clothing logistics warehouses.
In recent years, as the penetration of e-commerce channels continues to deepen, the commitment of "No Reason to Return or Change Goods" is regarded as an important means to increase consumer stickiness and increase turnover by shoe and apparel companies. More and more shoe and apparel companies realize that although the reverse logistics under the omni-channel is complex, it plays an important role in reasonable cargo allocation and secondary sales, so many head players have begun to put forward higher requirements for their own logistics supply chain capabilities and the timeliness of returns racking.
Where is shoes and clothing return pain point?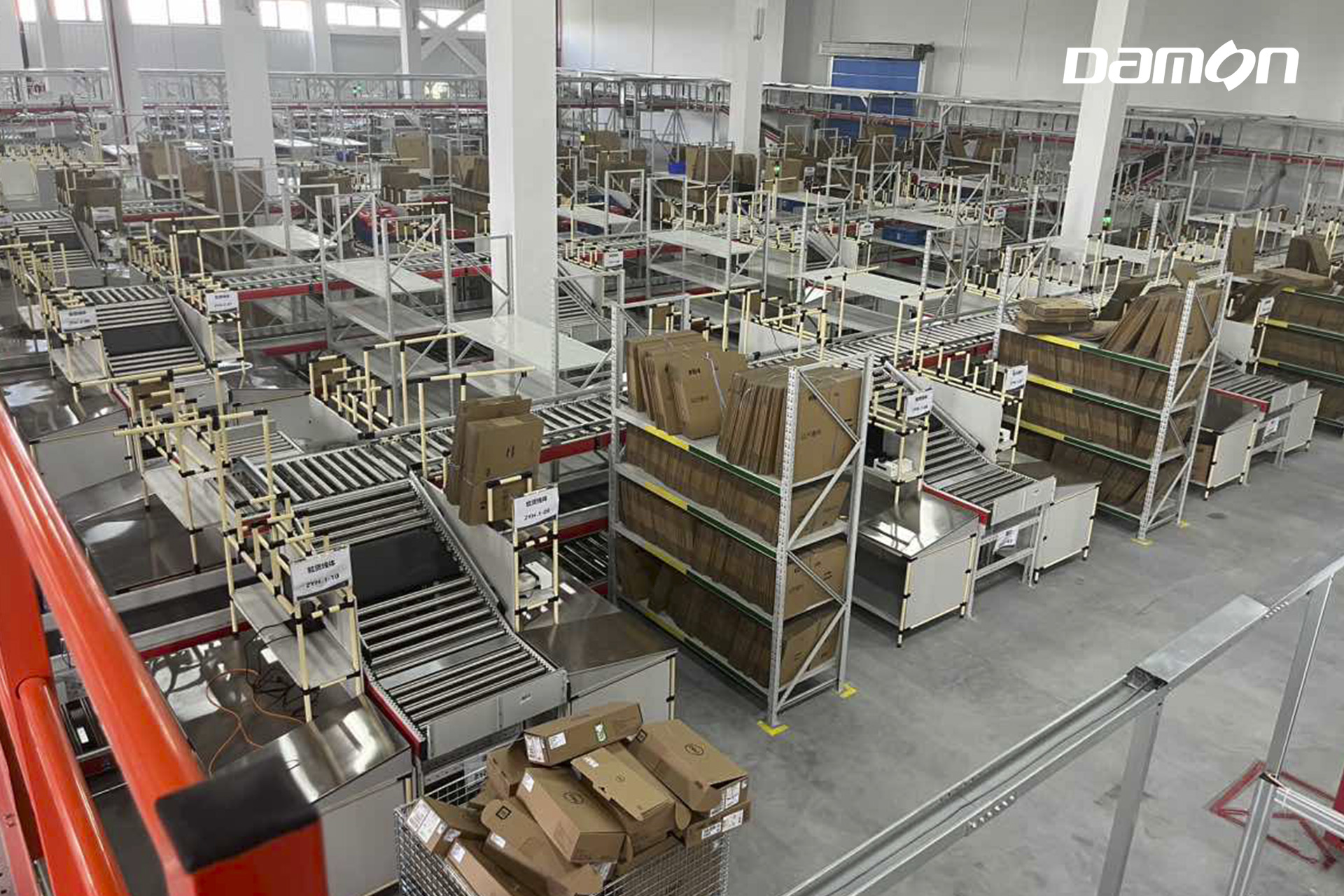 How to quickly respond to market demand and effectively deal with the surge of return orders caused by big promotion? How to deal with return orders in time to speed up the circulation of goods and reduce the operating costs of enterprises? Undoubtedly, it is a problem that can not be avoided and can not be ignored in the development process of shoes and clothing logistics. Therefore, the transformation and upgrading of reverse logistics of shoes and clothing is imminent.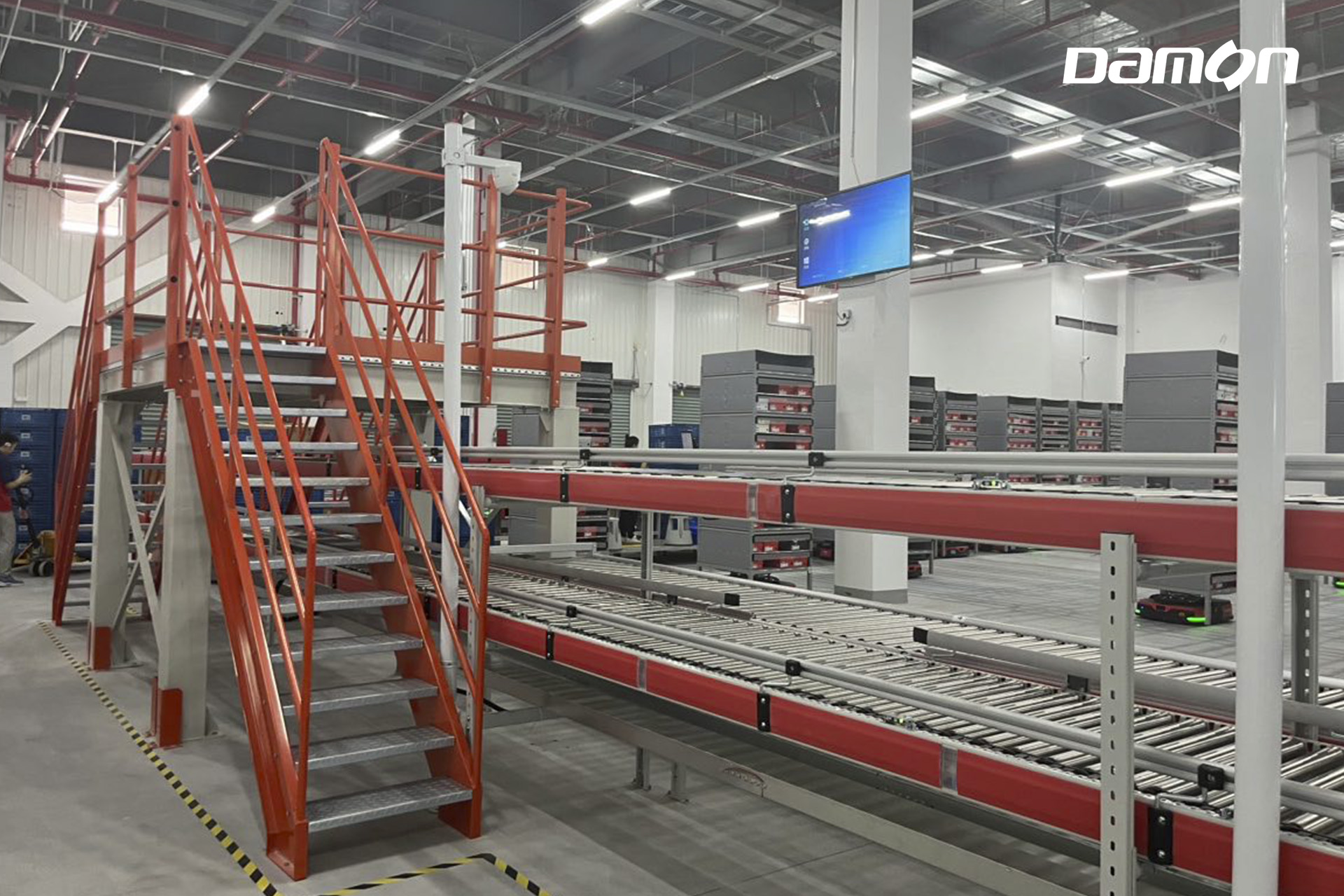 In order to open up the multiple links of shoes and clothing returns and establish an efficient reverse logistics system, a professional sporting goods brand actively built a logistics center designed for the return business scenario. Damon Technology has successfully planned a complete solution for the return logistics of shoes and clothing for the enterprise, which helps the enterprise to recover the value of goods and build a sustainable business model while improving the efficiency of return processing.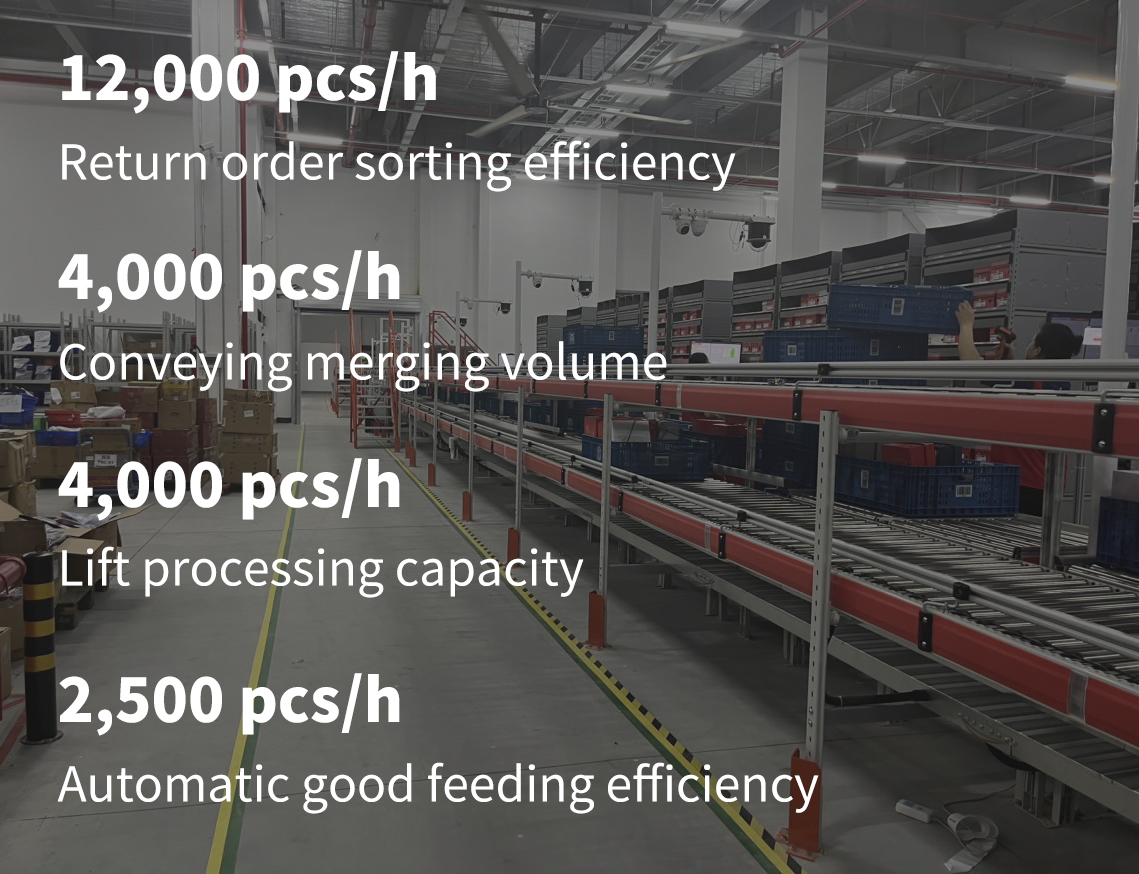 How to solve the difficulties in return of shoes and clothing?
Most of the brand's returned items are clothing, footwear and other clothing accessories. In order to better integrate with its return business scenario, Damon has customized the i-G5 intelligent carton conveying line with a total length of 3km, which runs through the whole process of product pull off rack- return and receive- unpacking and quality inspection - exceptions handling- carton re-changing- warehousing and put on rack to assorting - review and packing - empty carton backflow - waste collection, etc., shortening the manual walking distance. In a real sense, we can use the line to replace walking and realize multi-regional linkage of logistics center.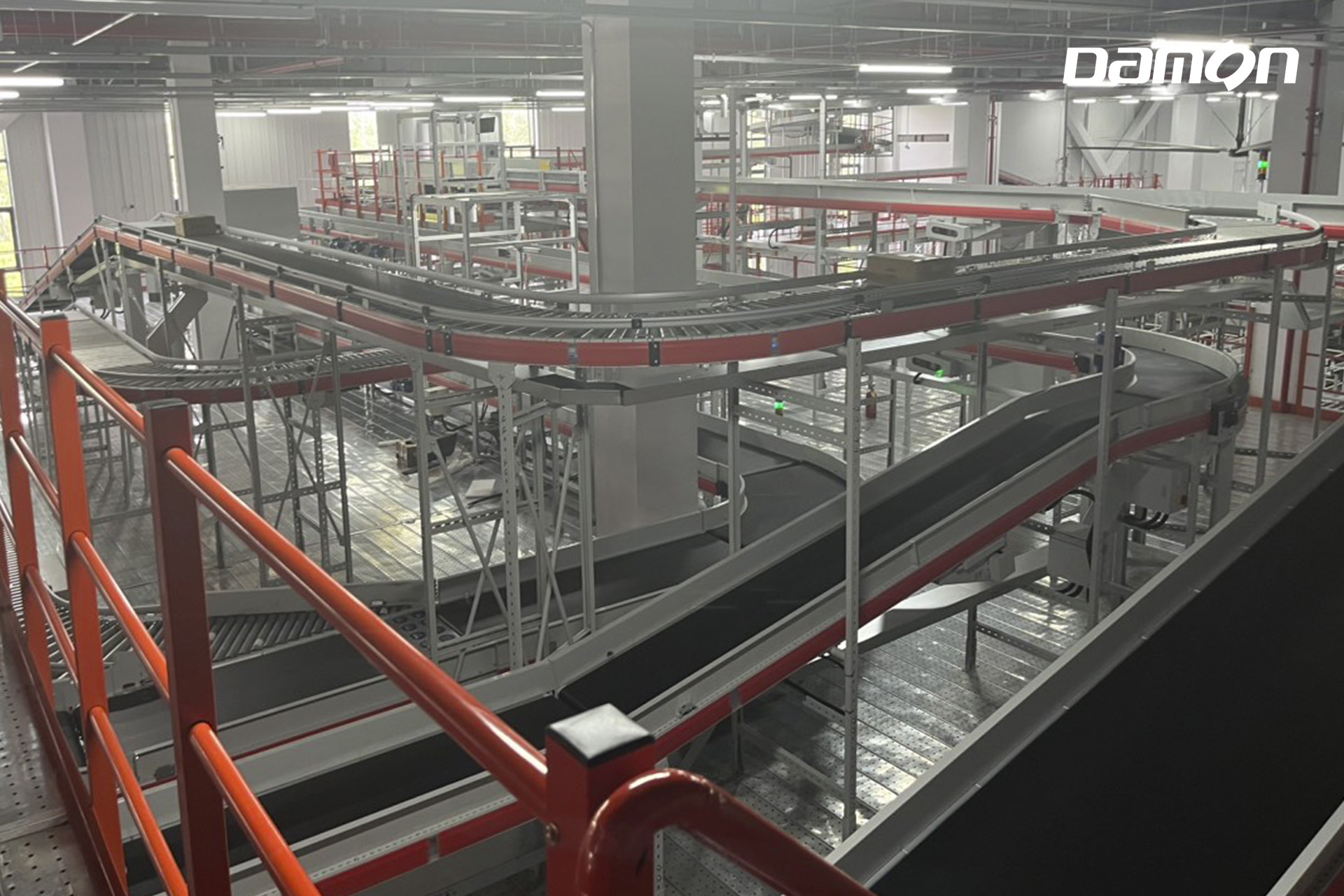 Screw lifters, continuous lifters, and pallet reciprocating vertical conveyors are equipped for connecting between each conveying function line to achieve cross floor replenishment loading, and unloading ex-warehousing of qualified products that can be resold. At the same time, Damon i-G5 conveying line is also equipped with empty carton backflow function, which enables the recycling and reuse of idle empty cartons generated in review and packaging area, which plays an important role as rapid replenishment.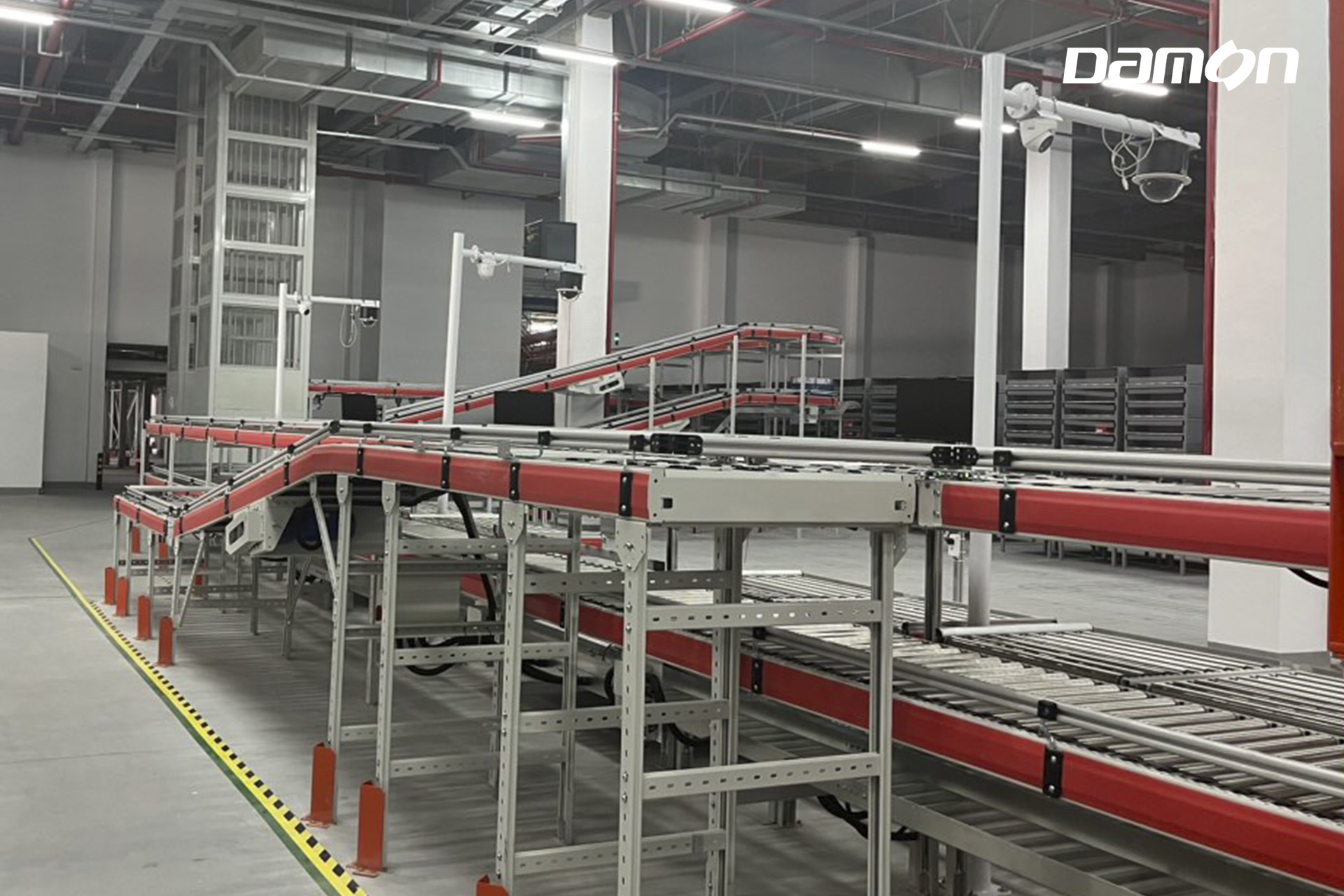 For multipack return package, Damon designed the way of electronic label automated put wall, and assists with advanced mini yellow robot intelligent picking system, greatly improve the picking efficiency. Goods which are put electronic labels complete the code reading, weighing review in the conveying sorting process, and then enter gravity slide for cache, to avoid package deformation due to extrusion. In addition, Damon also set up a reasonable accumulation g position and cache position in the packing area, and drop position is close to automated put wall to reduce the labor intensity; The packaging table is optimized to make manual pickup more convenient.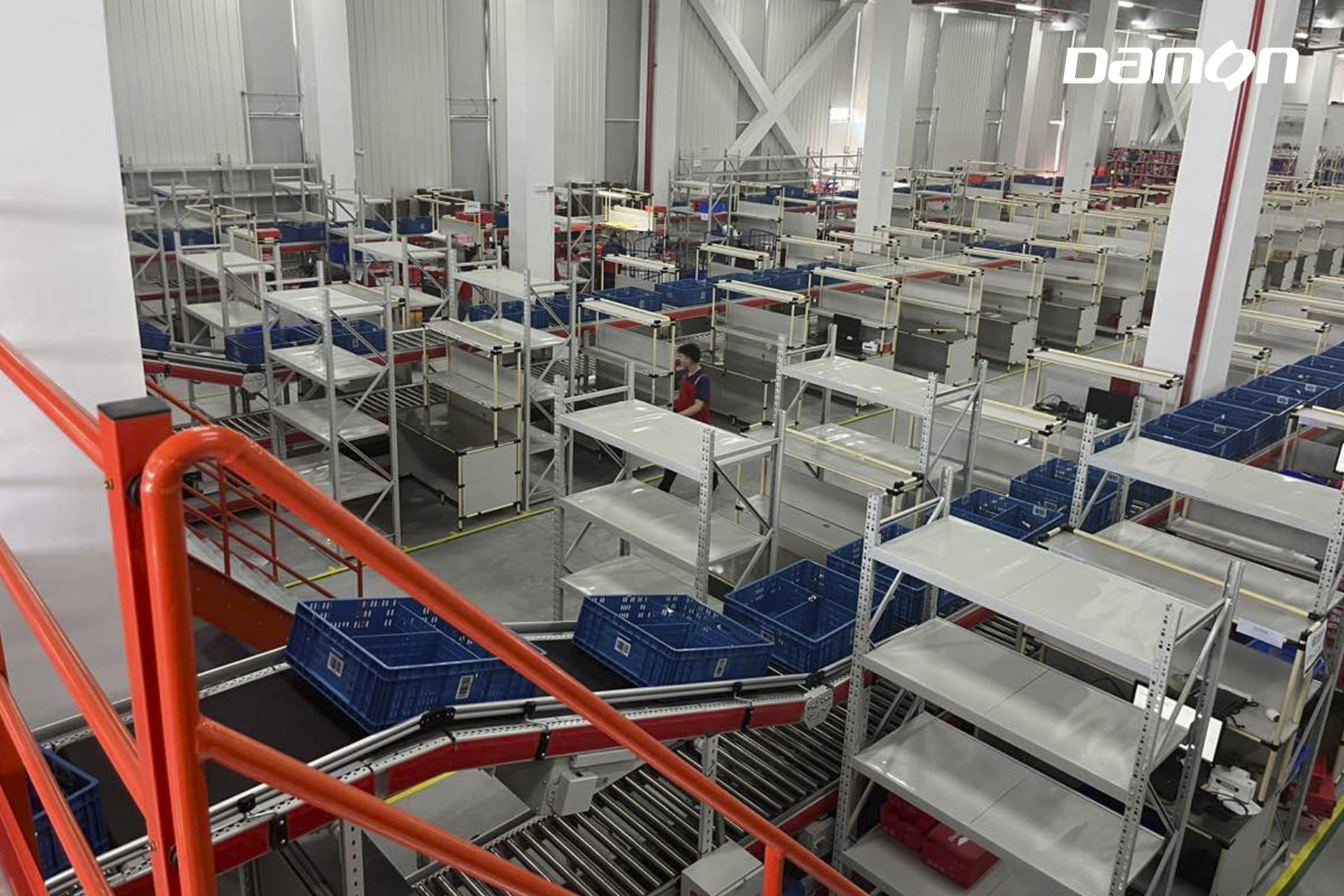 Damon has set up a stainless steel platform at the package main conveying line to facilitate the turnover carton after picking to put line. The large and small packages pass through singulator, after skewing, gapping, and scanning, they are transported to the sorting and parcel feeding area. Damon adopts Mecanum wheel sorter and a seven-row double-drive balance wheel sorter for sorting, which effectively ensures the accuracy of sorting and working space below.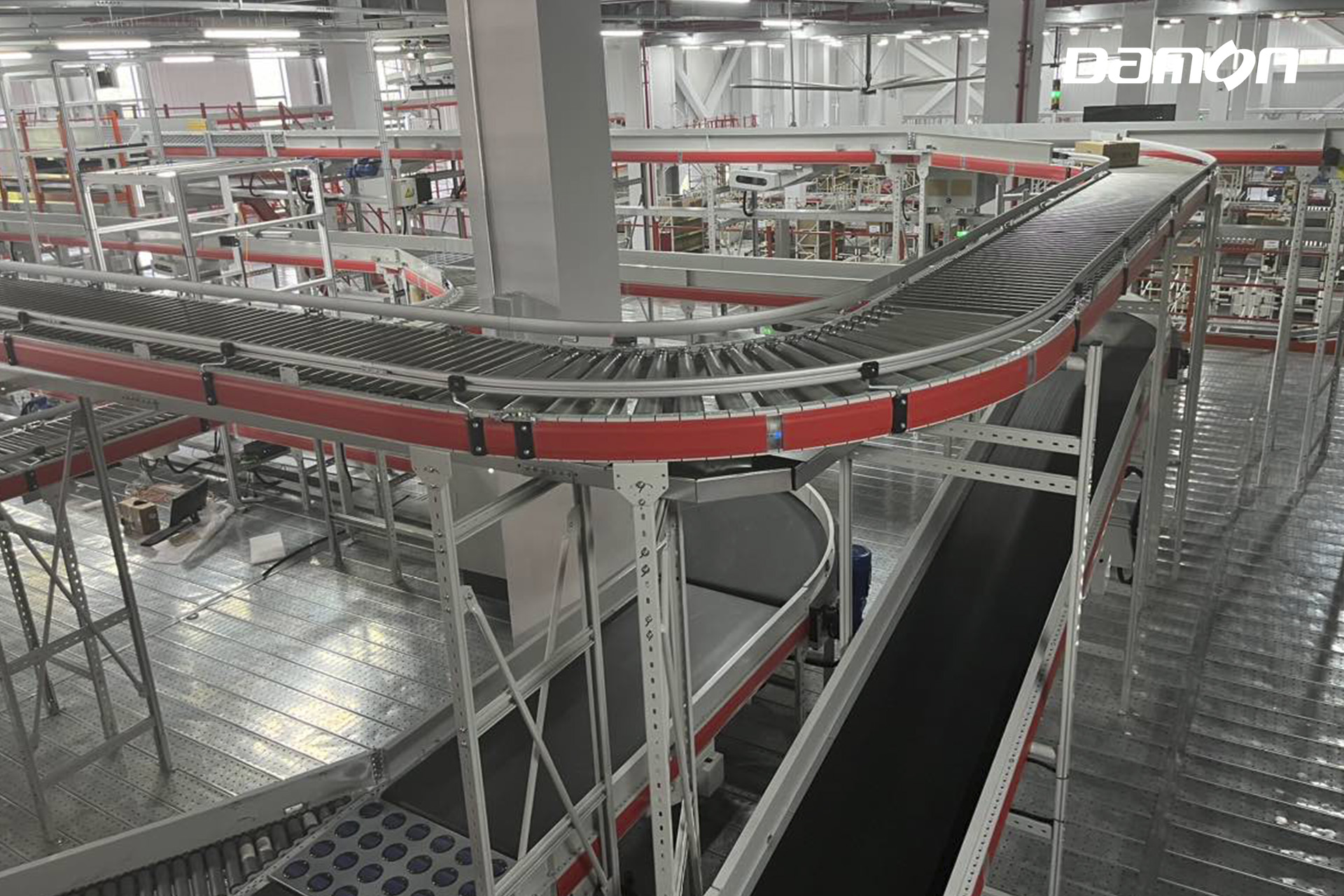 The high-speed loop cross belt sorter system developed by Damon not only can handle returns, but also can be time-shared and reused in the forward logistics process. Starting at the millisecond level, the sorting speed can reach 2.5m/s, and the packages are distributed to the designated express delivery company's grid, with precise positioning at the millimeter level for more accurate sorting. Damon fully utilizes the flexible layout of the site space, sets up sorting and packaging platforms, equipped with dynamic weighing devices and photo code readers, greatly improving the return processing capacity compared of original manual mode.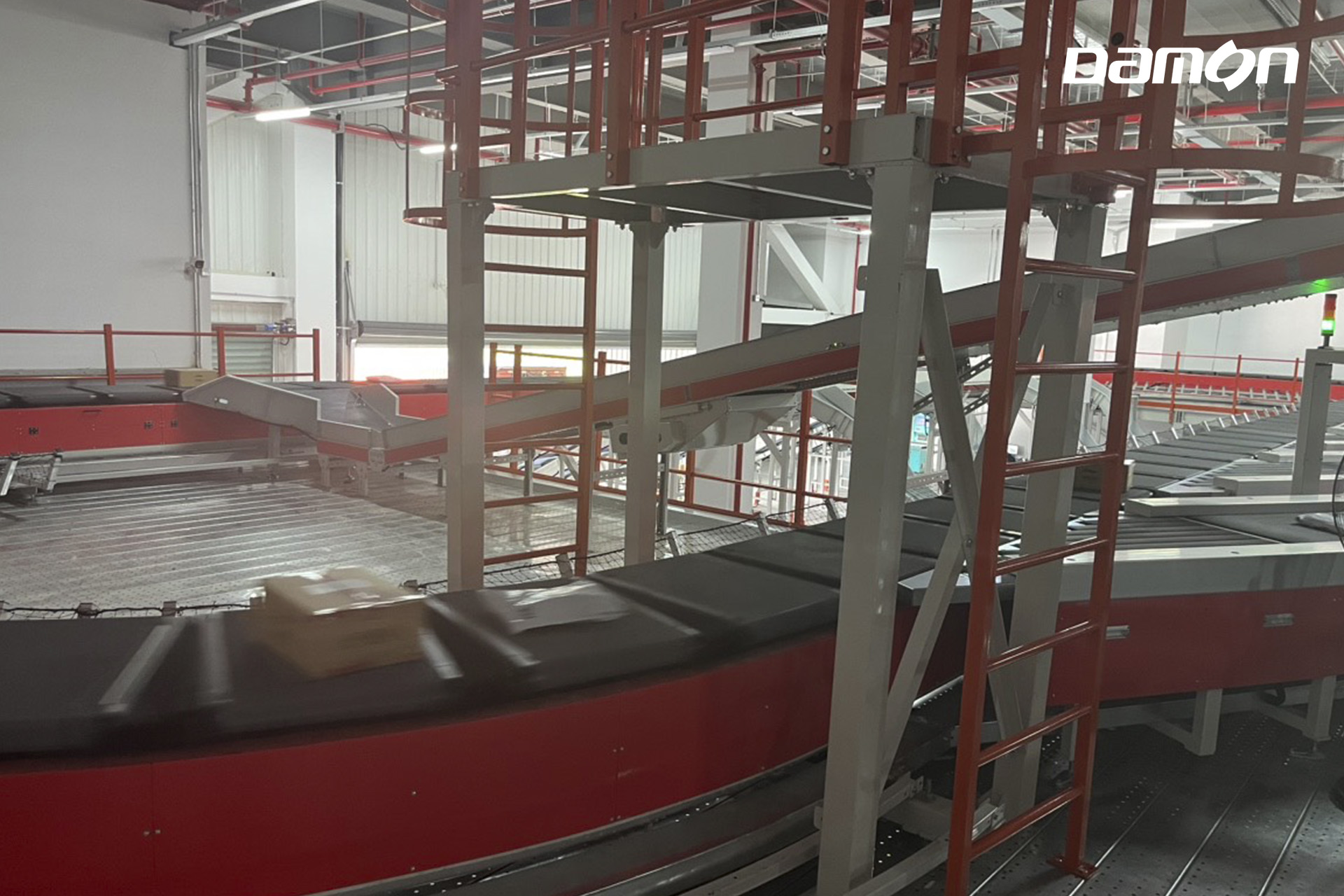 Damon i-G5 conveying equipment is equipped with bottom cover and corner protectors at the walkway and logistics passage to ensure smooth logistics passage and smooth passage of personnel and goods below. In addition, Damon also designed a fire compartment using a gate conveyor to meet the fire safety requirements of the warehouse.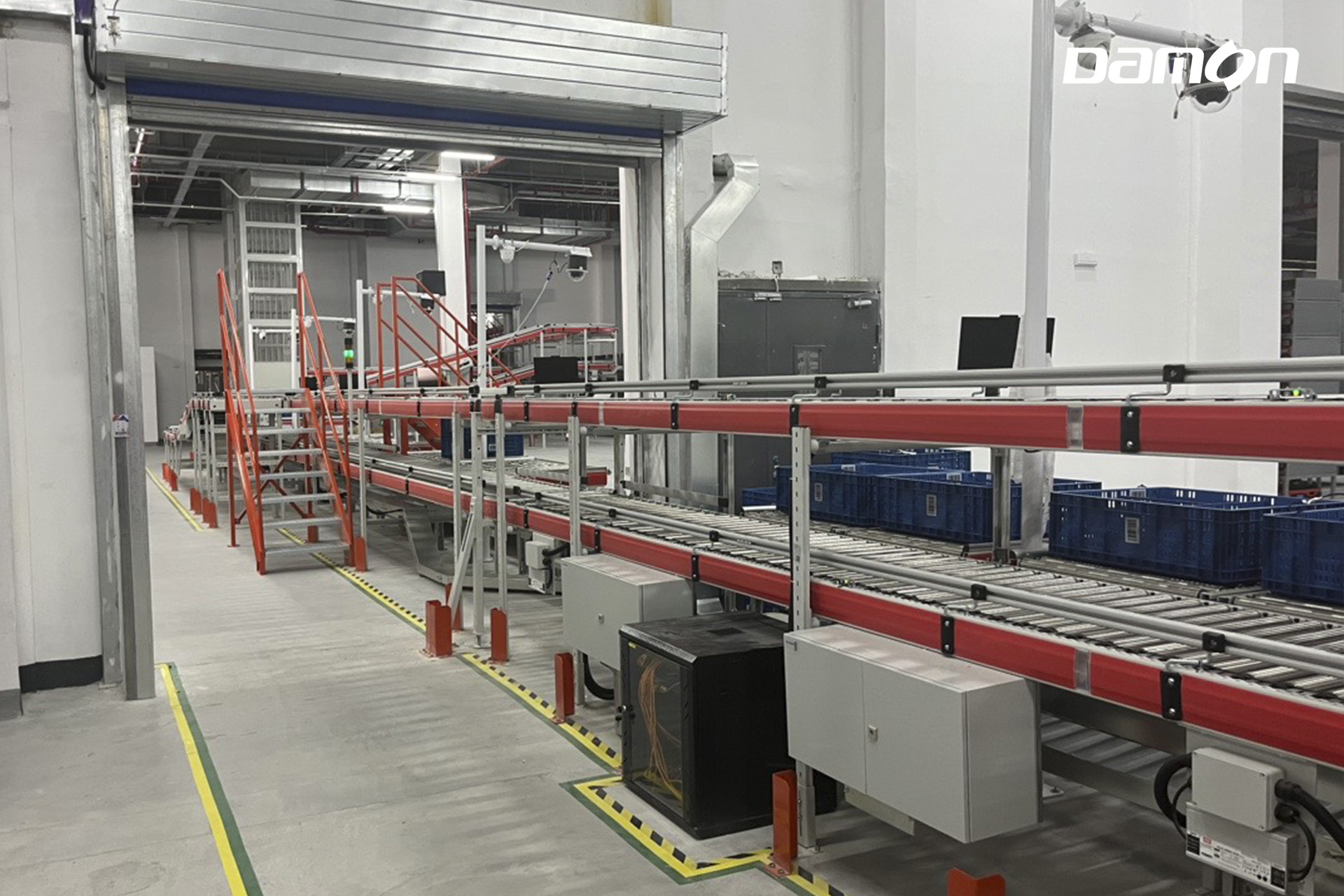 In order to further improve the operating efficiency of overall system, Damon combines hardware equipment with the self-developed Phegda system and WCS software, and optimizes the path through intelligent algorithms to grasp the real-time situation of goods, greatly improving the automation, informatization, and visualization of logistics, preventing and reducing logistics operating costs, and achieving efficient operation of return warehouses.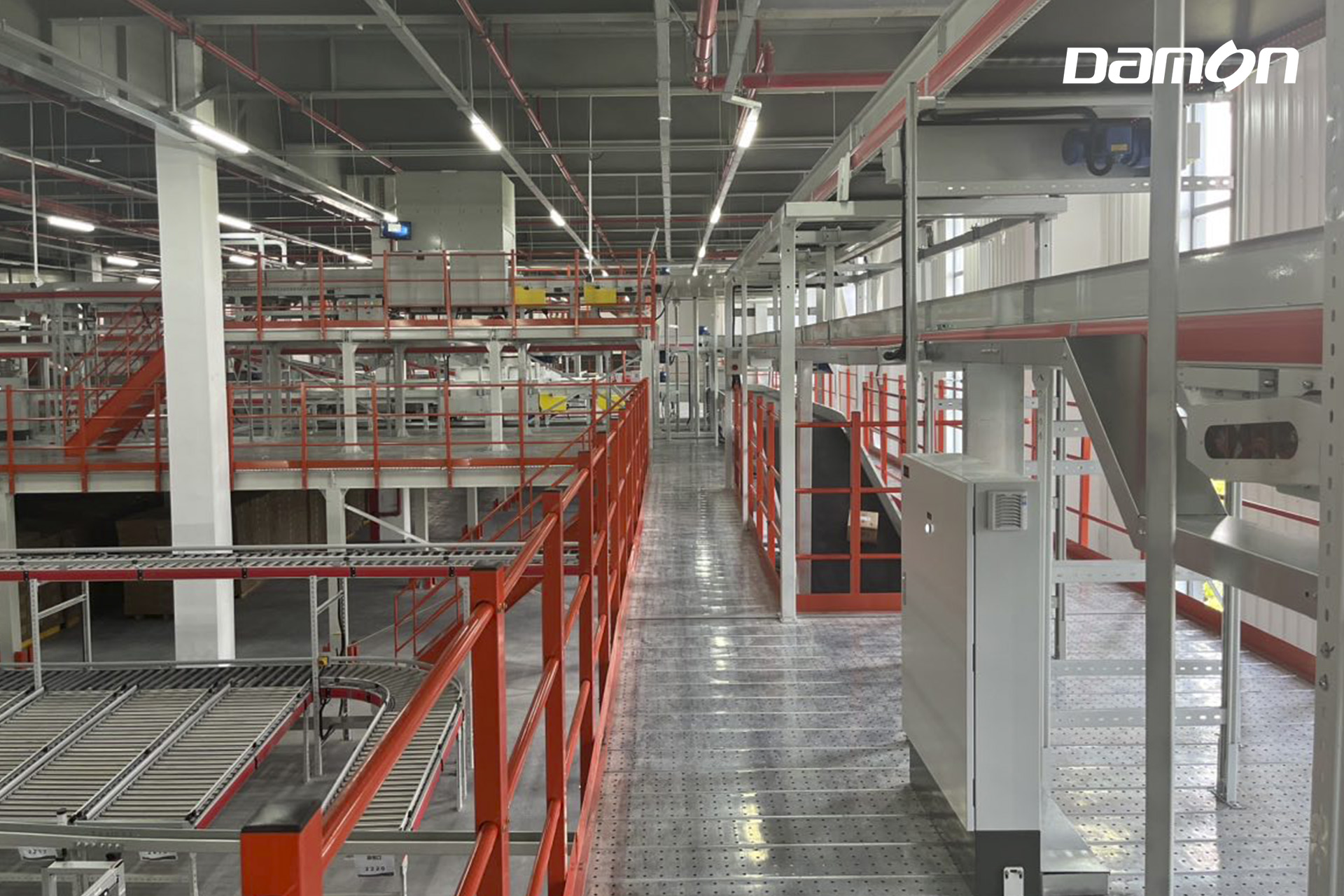 As a trusted partner of global customers, Damon has become the common choice of the head brands in the footwear industry such as Joeone, Belle, Tanboer, Samsonite, Carbene, and Anta. In the future, Damon will continue to deepen the footwear industry, constantly polish product competitiveness and project core capabilities, and ensure timely and high-quality project delivery with project lifecycle management and timely and high-quality service to help footwear and apparel enterprises omni-channel business operation and development.