The number of express packages in China is still growing rapidly, and in the first half of 2023, China's express delivery volume exceeded 50 billion pcs in advance, and the arrival of "Double 11" has accelerated the process. According to the latest data from the State Post Office, only November 1st-4th, the country's express collection surged, accumulating more than 2 billion packages! Behind the monthly average growth of "tens of billions" of express business volume is the urgent demand and full trust of global consumers for express delivery timeliness and services.
The core of express business is timeliness and accuracy rate. In recent years, in order to effectively cope with the increasingly fierce market competition, the major express delivery leading enterprises continue to increase investment in the field of logistics automation, which is undoubtedly a technological contest of logistics supply chain. Damon Intelligent Logistics, as a senior equipment solution expert trusted by global customers, is specially tailored for the express delivery industry to create flexible intelligent logistics conveying and sorting system solutions, which can meet the personalized needs of global customers and empower express companies to improve efficiency and increase energy during the logistics peak period.
In this "Damon Has Words" program, we specially invite Damon intelligent logistics express industry solutions international planning expert - Director Yang Hao, combined with the current development trend and demand changes in the express industry, to share with you what technological innovations Damon has made in the planning of express industry intelligent logistics solutions and what benefits have been achieved.
1)What is the development trend of express industry logistics ? What are the industry pain points?
At present, express delivery industry high-quality growth rate has developed significantly, especially the express business increment in developing countries is in a climbing period. With the increasing demand of global express customers for express operation costs and efficiency, logistics technology innovation has never stopped, and the express industry has caught the express train of the digital era, and intelligent transformation and upgrading continue to accelerate. Intelligent logistics products supported by digital twins, Internet of Things, artificial intelligence, Internet 5G, AR, big data and other technologies are landing in logistics links such as express delivery, sorting, warehousing, accelerate the realization of all-scene applications.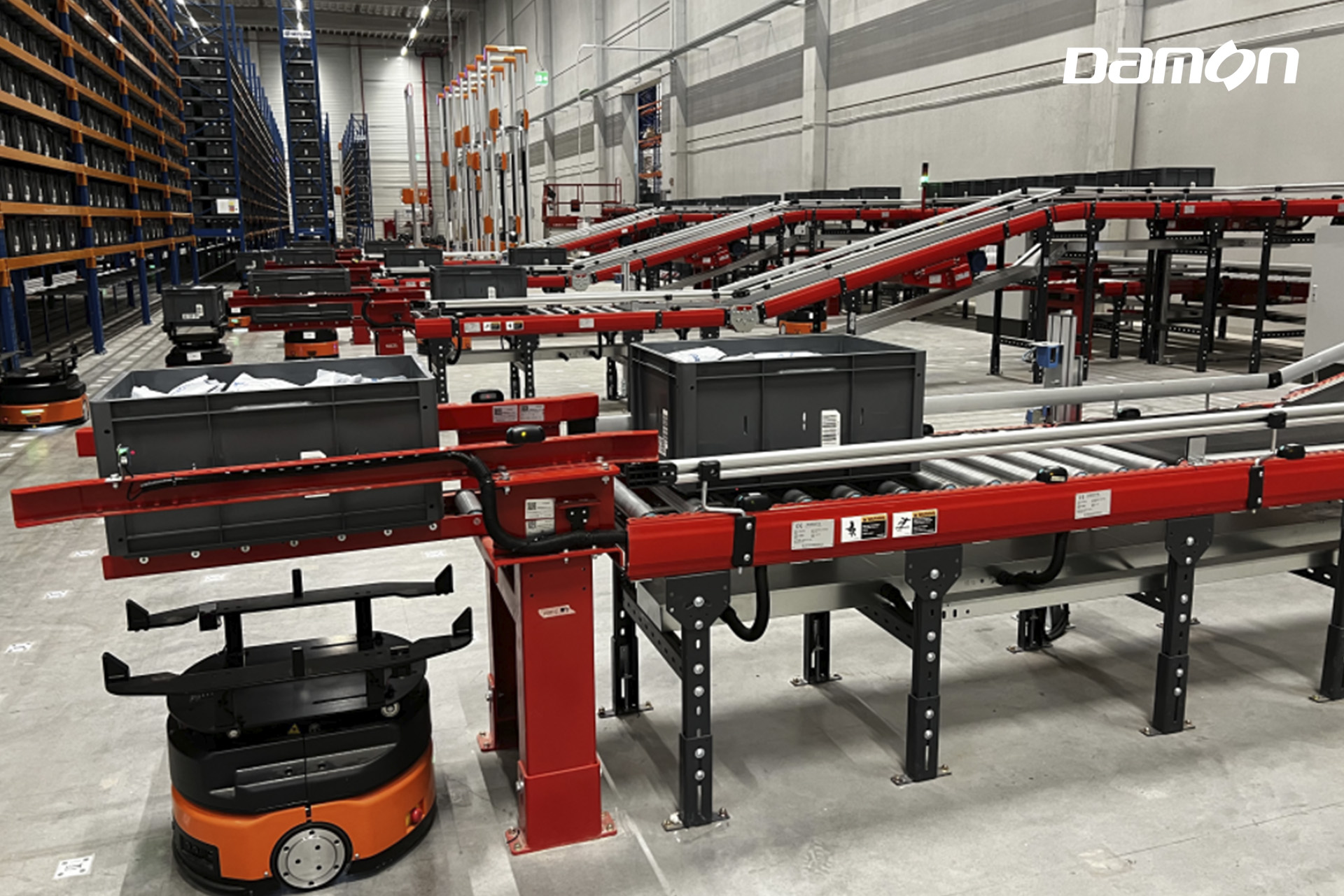 In the face of a large number of complex forms, diverse specifications, and even irregular, express packages with magnetic properties, as well as the current consumer increasingly stringent delivery time requirements, in order to effectively respond to the Double 11, 618, Black Friday and other seasonal traffic peaks, the major express delivery companies need more efficient, more space-saving, intelligent logistics equipment systems that can sort more forms of goods.
2)What intelligent logistics solutions does Damon provide for the express delivery industry?
The warehouse scale level and throughput of each major express company vary, and according to the categories of super warehouse, first class warehouse, second class warehouse, network warehouse, etc., the scheme design will also be very different. For example, a multi-layer loop cross-belt sorter can be deployed in the express super warehouse, with a loop line length of up to 500m and grid of up to 500+ pcs. In addition, package size, size and weight affect sorting efficiency and stability. With the increasing demand for sorting and processing of special-shaped and large express packages, how to make it no longer difficult to deal with a large number of packages of different sizes and shapes? Damon has his good tips.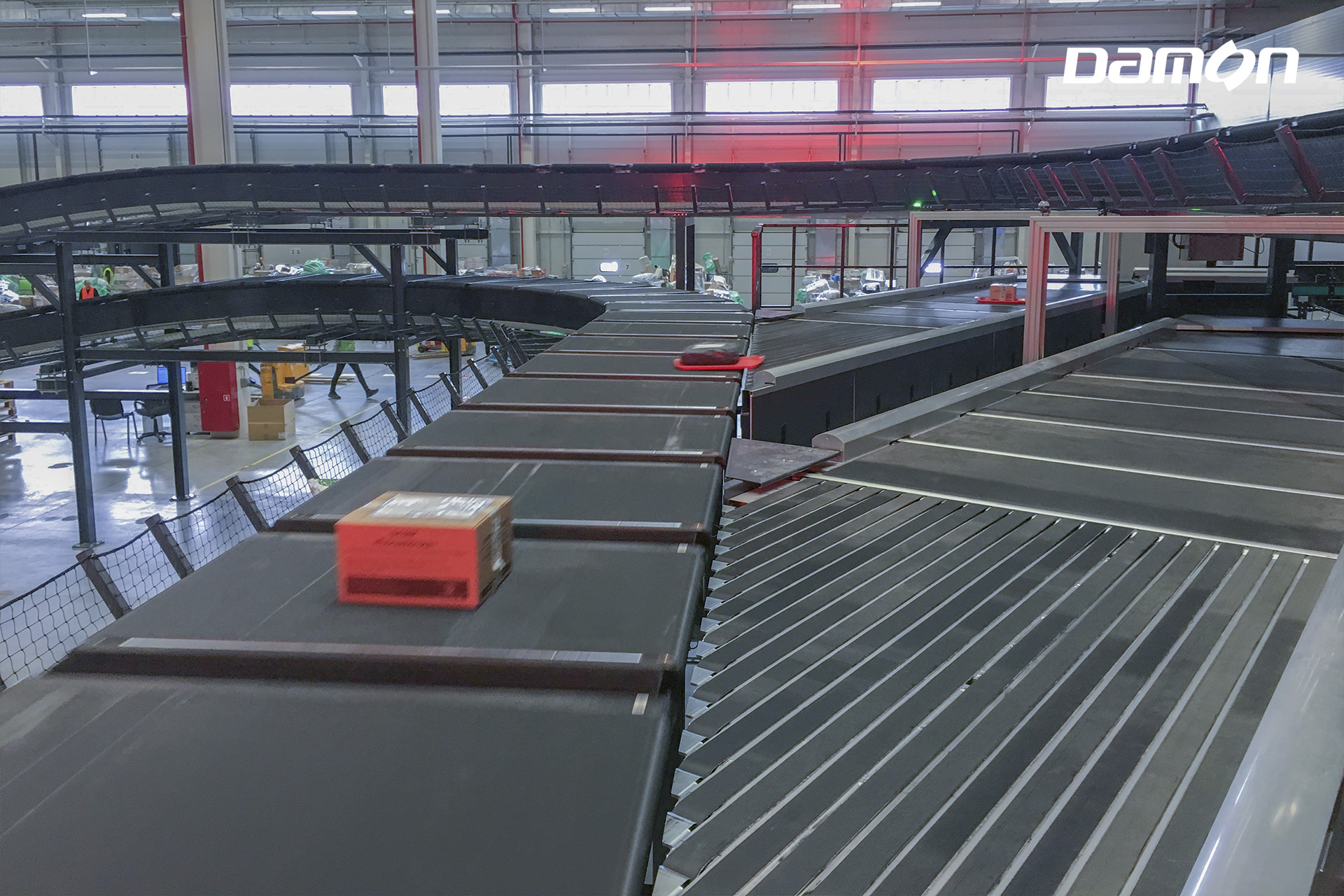 In order to help express customers effectively deal with complex package orders, Damon has mature experience in logistics automation solutions in the transportation and sorting of large-size heavy objects, small and medium-sized pieces, thin pieces, soft bags, shaped pieces and other parcels. It can provide a full range of intelligent sorting equipment, reasonably deploy express transmission lines, expand the range of packages that can be handled, and support multi-scene logistics functional area planning. It can easily overcome the transportation and sorting problems of various express packages and support the diversification and upgrading of express business.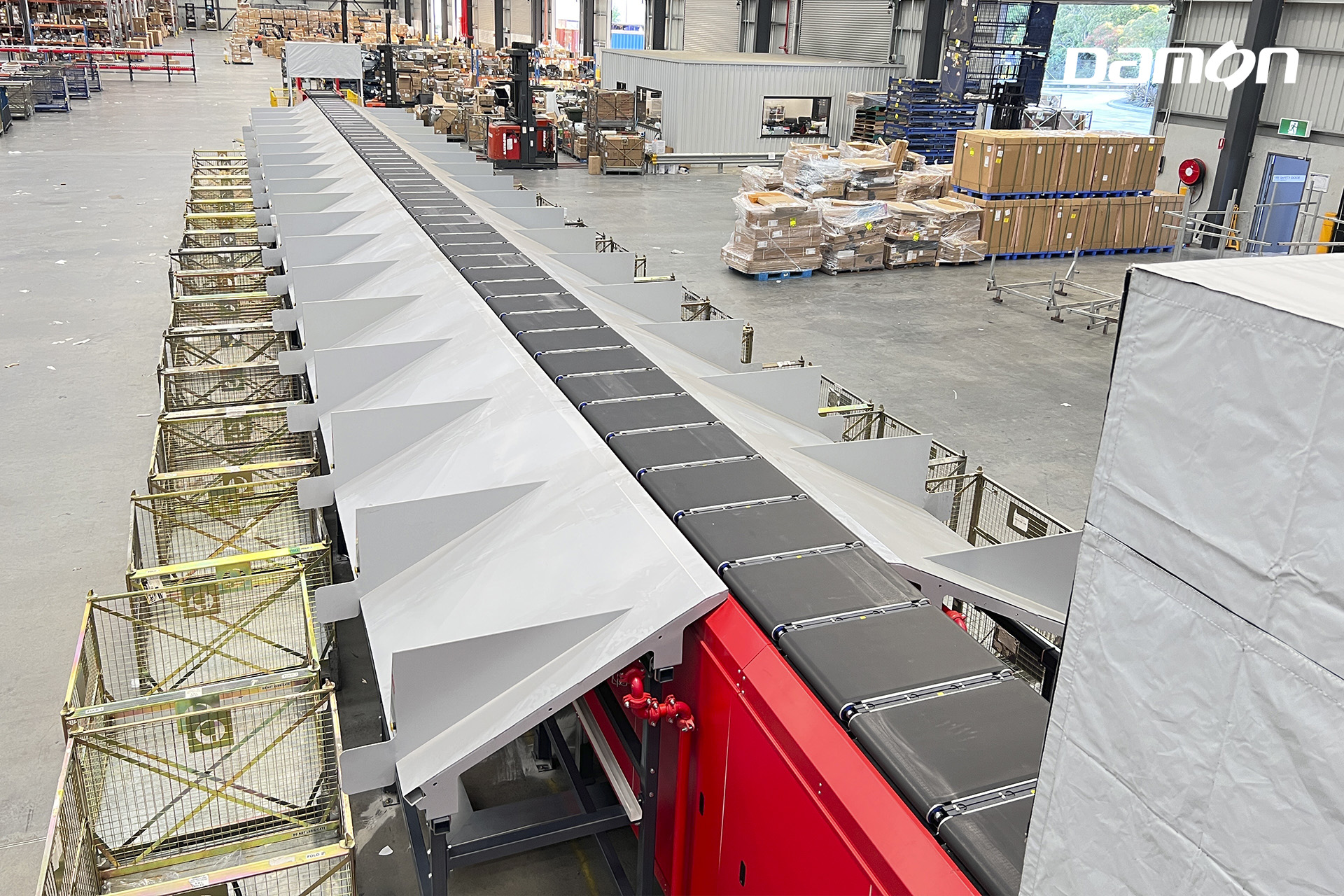 Damon intelligent sorting system can not only accurately identify and locate all kinds of parcel objects, but also carry out dimensional measurement, weight detection, intelligent distribution and other operations, reduce the sorting error rate and package damage rate, and achieve high precision, high efficiency and high quality sorting. At the same time, Damon can customize the layout according to the site, and the applicable scenarios cover large logistics transit stations with high cargo volume, multi-regional sorting and small and medium-sized warehouses with high space utilization requirements, so as to meet the project needs of various express centers at different levels.
3)What improvement does express enterprises make on their logistics services after adopting Damon's solutions?
Damon's high-throughput express industry intelligent logistics system solution has a strong carrying capacity, which can be implemented in a short period of time, timely to undertake the unloading area packages, compatible with all categories of goods, quickly realize pallet-free automated conveying and sorting, almost eliminate manual lines, simplify the input and exit process, optimize the flow of express packages, greatly improve the order processing capacity and logistics distribution speed. Reduce the package breakage rate and lighten the manual labor intensity.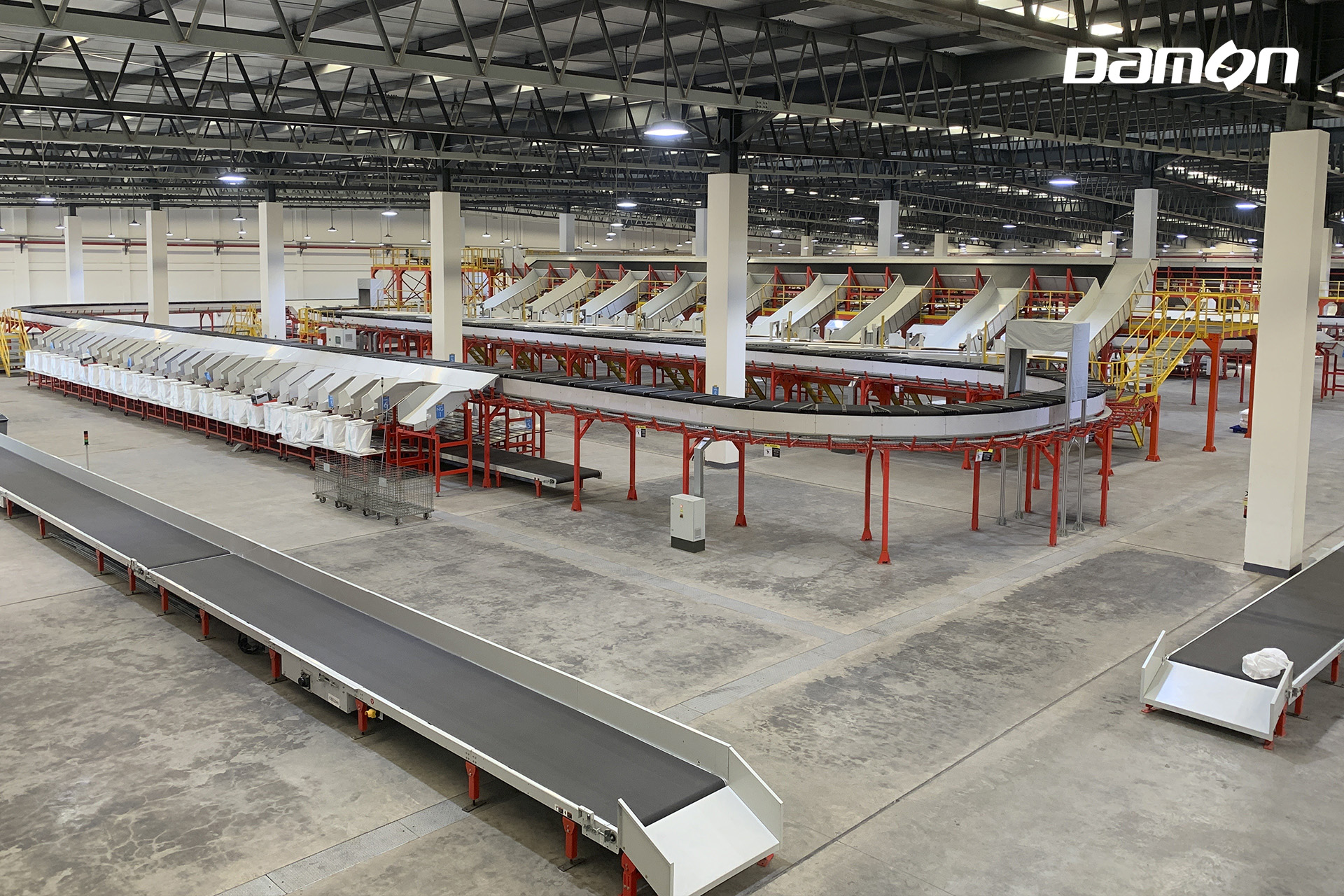 Taking an Indonesian project as an example, after the customer launched Damon automated conveying and sorting equipment, the warehouse can handle 500,000 parcels per day, the number of employees in related operations has been reduced from 300 to 80, and the operation time has been increased from 8 hours in the past to 22 hours at most, helping the customer save 20 + million yuan in labor costs per year. It is expected that the investment and operating costs will be recovered within three years, so that the ROI cycle of customers will be further improved, thus enhancing the enterprises' competitiveness.
4)What challenges do you face when planning express industry logistics solutions ? How do you deal with it?
The investment window of express customers is relatively short, resulting in a correspondingly shortened delivery time of system projects, which means that we need to complete all work such as planning and design, manufacturing, installation and debugging in a very tight time. According to the customer's delivery needs, Damon may advance the program planning and design, and parallel the production and delivery with the project implementation.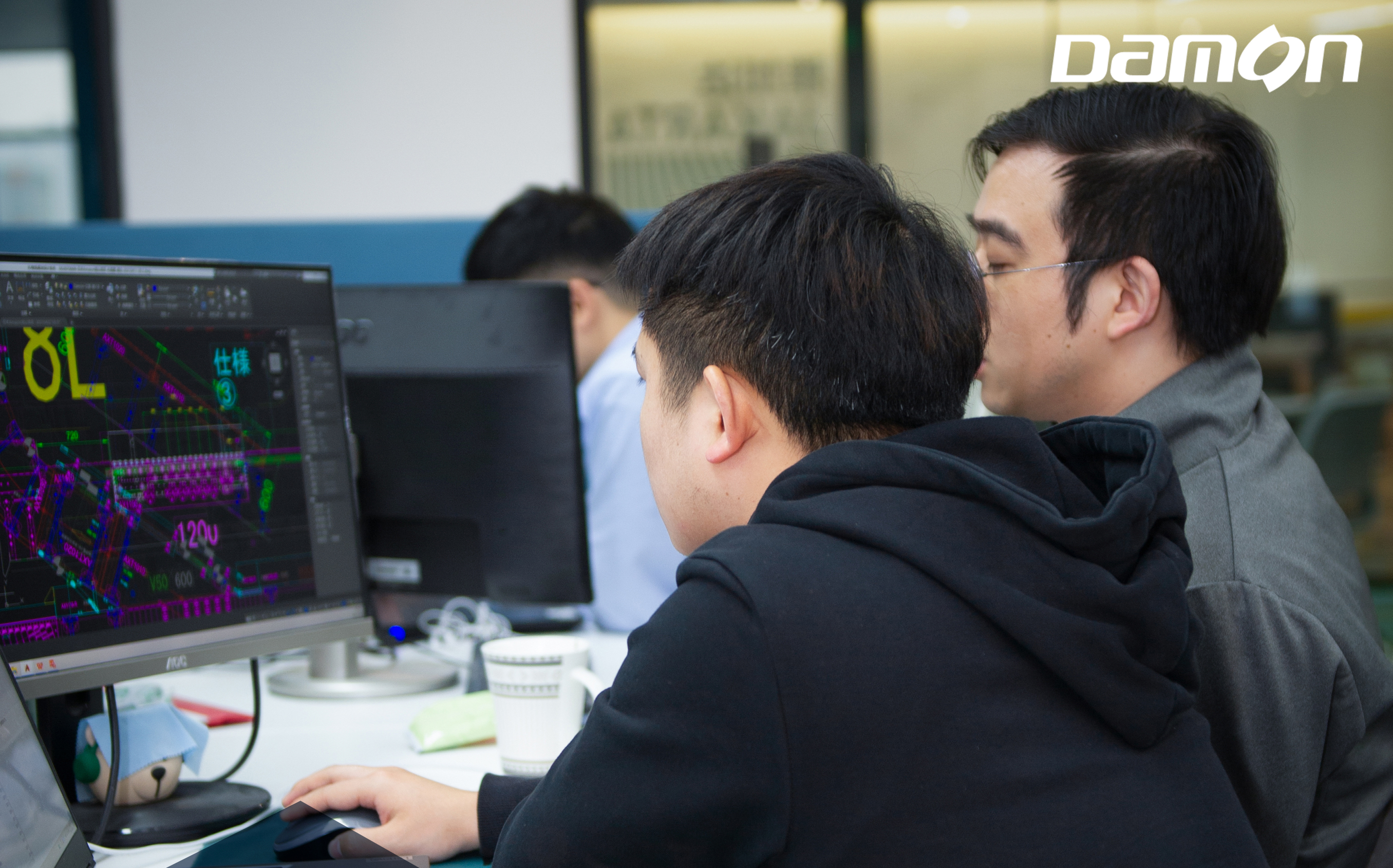 "Under the premise of meeting customers' design indicators, we have been studying how to flexibly deploy equipment, and design a more stable and cost-effective solution for the whole process automation while pursuing energy saving and consumption reduction, making the overall maintainability and operability of the system stronger, improving the utilization rate of site space, and improving the safety of the project site." At the same time, we strictly ensure that all certifications comply with local laws and regulations." Mr. Yang has a plan in mind.
Express delivery is an important part of the modern service industry, connecting thousands of cities and businesses, thousands of households. Damon has been deeply engaged in the express industry for decades, and has served Jingdong, SF Express, Cainiao, CDEK, JNE, Flash Courier and other core express logistics enterprises at home and abroad, and has been fully recognized by the industry's leading customers. In the future, express industry logistics solutions will also develop in the direction of intelligence, flexibility, lightweight and diversification, the digitalization degree of the warehouse system will be higher and higher, Damon will always adhere to technological innovation, the more refined the equipment, the lighter the electronic control, the more flexible the system, the faster the project, to assist express logistics into the development "fast lane".